Weekly yoga practice in The Isabel McLaughlin Gallery
With local yoga instructor Meg Cox
Spring Session: April 20 – May 25, 2017
Thursdays 5:30pm-6:30 &  7-8pm
Full Session: Members $100 / Non-Member $115
Five Class Pass: $70
Drop ­In:  $15
The RMG proudly holds the largest collection of art works by Painters Eleven in Canada. Join us each week as yoga instructor Meg Cox connects the artwork to a yoga theme, including:
Movement
Grounding
Balance
Wild Spirit
Each yoga class will focus on a work of art and weave details of the piece into the yoga practice, for an art-focused and art-inspired experience. Students will gain appreciation for the art in the gallery as well as enjoy the buzz from an uplifting and creative yoga session.
Together, let's connect creativity and yoga with an art-inspired yoga series.
"I was attracted by the concept of practicing yoga at an art gallery & I was so pleased & happy that I got to be in Meghyn's class. She's knowledgeable, friendly & inspiring. Her class was well timed, challenging but doable & enjoyable. The venue is superb & I am just glad the RMG & Meghyn partnered to make this happen. Attending to any of Meghyn's classes won't disappoint you. Cheers." — Valentina K.
"Yoga in the Gallery is best yoga experience I have ever had, Meg's voice is calming and lovely." — Olivia
"Yoga in the Gallery is a beautiful setting with a great teacher, Meg is excellent." — Anna
"I absolutely love these classes – they put me in such a positive space and I look forward to them all week. Meg is awesome and the best yoga instructor I've ever had!" —Diana
"Meg is A+ plus! I know that she's helped me so much. Yoga at the Gallery is amazing! Incredible!" —Paula
Enjoy yoga in the gallery and expand your mind, body and creativity with weekly yoga practice in the Isabel McLaughlin Gallery, led by local yoga instructor and RMG Volunteer Meg Cox.
Join us and grab a glimpse of the works on display while centering and relaxing the body and mind. Classes are suitable for all levels. Sessions will begin with introductory poses, mindfulness and breathing techniques.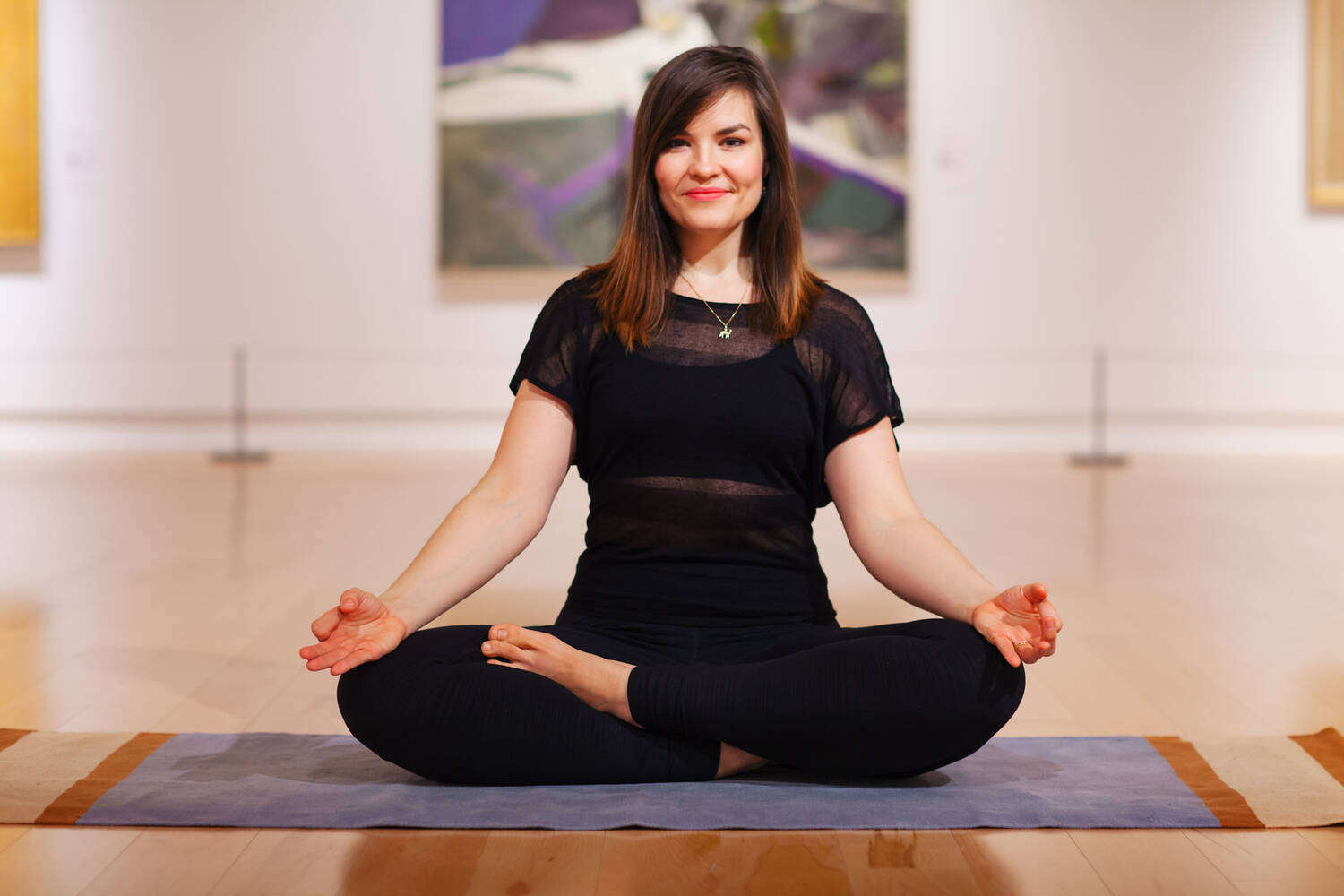 About the Instructor
Meg Cox is based in Oshawa and an active volunteer at the RMG. Her classes are a light­hearted and welcoming environment. She enjoys teaching people who, like her, never thought yoga was something they could practice or enjoy. Cox initially started yoga to help strengthen her back from rowing injuries, but was captivated by the body ­accepting and nurturing nature of the practice. Now, with over 10 years of practice, her knees and back have strengthened and she has a kindness towards her body and life she never thought possible before.
Studying with a variety of teachers around the world, Meg completed her first teacher training in 2014 through the AyurYoga Eco­Ashram in Mysore, India. She has since completed trainings with Yogaworks Yin Yoga with David Kim and attended international yoga conferences with Kathryn Budig, Kia Miller, and Forrest Yoga teacher Sinhee Ye­McCabe.
Payment: For a full session pass, including all eight classes, payment can be made via PayPal below, or at the front desk of the RMG. For Drop In classes, please pay via cash at the start of each class.
Entrance to the gallery is through the main doors. Washrooms are available for students to change into suitable clothing. Students are asked to bring their own yoga mat and to arrive at least 15 minutes prior to the start of class. Water bottles are permitted in the gallery but must be sealable.
Please note that all students are required to sign a liability waiver prior to participating in the class. If you require an accommodation for accessibility or injury, please let Meg know before the start of each class. No make-up classes or substitutions available.