The Album
Christina Leslie
Join us for a conversation between Senior Curator Leila Timmins and artist Christina Leslie about her photography practice and this exhibition, followed by a Q&A. This artist talk will be taking place virtually over Zoom. Please register here.
Curated by Leila Timmins
In response to the transient quality of photography, curator and historian Jennifer Blessing has claimed that "every photograph becomes a memorial to the past." Inspired by this sentiment, Pickering-based artist Christina Leslie created a new body of work exploring the question of how to memorialize the past when few images of it exist.
Leslie's father was born in Jamaica in 1950, and only three images of his childhood remain. It was not until he immigrated to Canada at the age of 19 that there began a substantive photographic record of his life. The artist's mother, on the other hand, also born in 1950, grew up in Canada with English/Canadian parents and her childhood was recorded at every stage. In the form of a collaged family photo album, Leslie's The Album memorializes her parents' individual and shared histories. Its pages are filled with images of their childhoods, marriage, and now 48-year relationship together. Presented as an online exhibition and public artwork on the front of the gallery, this series points to the slippery and permeable nature of memory and identity.
Christina Leslie is an artist based in Pickering, ON. She earned her B.F.A. in 2006 at OCADU in Toronto and is presently pursuing her M.F.A. at the Savannah College of Art and Design in Georgia, USA. Leslie was a speaker at the SPE conference in Philadelphia in 2010 and a panelist for the Position as Desired symposium at the Royal Ontario Museum in 2011. Her photographs have been featured in numerous publications; most recently in the UK magazine MURZE in issues Four, Ten, and Twelve (2019 and 2020). Her latest series Morant Bay was shown in two solo exhibitions in April, 2020. One was part of the Scotiabank CONTACT Photography Festival and three prints from the series were transformed onto billboards as part of Vancouver's Capture Festival. Leslie was part of the exhibition When night stirred at Sea: Contemporary Caribbean Art at PAMA in Brampton in fall 2020 and is in the upcoming exhibition Movers and Makers at Prefix ICA in Toronto. Much of her photographic practice revolves around the themes of identity, immigration, issues of marginalization, memory, race, and her West Indian heritage. She often utilizes text and photo collage in her work, as well as historical photographic processes.
---
Christina Leslie, The Album-Beginning, 2021.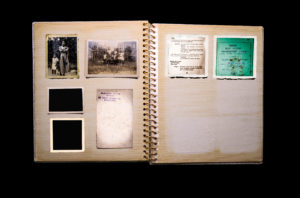 Christina Leslie, The Album-Dad, 2021.
Christina Leslie, The Album-Mom, 2021.
Christina Leslie, The Album-Together, 2021.
Christina Leslie, The Album-To be continued, 2021.