January 29, 2022 1:00 PM - February 12, 2021 1:00 PM
These panel discussions are being held virtually and registration is required. 
Conversations on Ezhi-gashiwing Deniiwan: Part 1
January 29, 2022 1:00 PM – 2:30 PM
A conversation with Laura Grier, Matthew Stevens, and Melody Crowe, moderated by Erin Szikora.
Conversations on Ezhi-gashiwing Deniiwan: Part 2
February 12, 2022 1:00 PM – 2:30 PM
A conversation with Lacie Burning, Sarah MacLeod-Beaver, and Dr. Elder Shirley Williams, moderated by Missy LeBlanc.
Embedded within languages are entire worldviews. They shape the way we consider ourselves, our environment, and our relationship to those around us. Within so-called Canada there are over 60 distinct Indigenous languages, however, only three are expected to survive the next 100 years—nēhiyawēwin, Anishinaabemowin, and Inuktitut.[1] Despite this dire situation, Indigenous people across this land now known as Canada are taking up the fight to revive and preserve their mother tongues.
Please join us January 29th and February 12th for Conversations on Ezhi-gashiwing Deniiwan, a two-part series exploring the importance of Indigenous languages across Dish With One Spoon Territory. Hear from artists, language teachers, and community organizers who are at the front lines of language revitalization work in our communities.
Mamanaw Pekiskwewina | Mother Tongues: Dish With One Spoon Territory is the second of four locality specific iterations of the Mamanaw Pekiskwewina project and is presented in tandem with the tour of Taskoch pipon kona kah nipa muskoseya, nepin pesim eti pimachihew | Like the winter snow kills the grass, the summer sun revives it, across so-called Canada. Developed in consultation with region-based Elders, Knowledge Keepers, language teachers, and educators, Mamanaw Pekiskwewina: Dish With One Spoon Territory celebrates and makes visible the traditional and ancestral languages of the lands covered by the Dish With One Spoon treaty, an agreement made between the Anishinaabek, Mississauga, and Haudenosaunee Nations to share the resources and responsibilities of the territory. Mamanaw Pekiskwewina: Dish With One Spoon Territory is co-curated by Missy LeBlanc and Erin Szikora for The Robert McLaughlin Gallery.
Conversations on Ezhi-gashiwing Deniiwan: Part 1
Laura Grier
Laura Grier is a Délı̨nę First Nations artist and printmaker, born in Somba ké (Yellowknife), and raised in Alberta. Through the use of traditional print mediums, they instrumentalize the power of the handmade to language, culture, ecology, and Indigeneity. Responding to lived urban Dene experiences and displacement through print, Laura's work is also inspired by the dynamism of Indigenous art practices and uses printmaking as a tool for resistance, refusal, and inherent Bets'ı̨nę ́. They hold a BFA from NSCAD University (K'jipuktuk) and an MFA from OCAD University (Tkaronto). They have exhibited at The Robert McLaughlin Gallery, Xpace Cultural Centre, Harcourt House, DC3 Art Projects, and SNAP Gallery. Laura has received grants and awards for their work, including Indigenous project grants from the Alberta Foundation for the Arts, Toronto Arts Council, and the Canada Council for the Arts. They currently reside in Tkaronto.
Matthew Stevens
Matthew Stevens is a member of the Southeastern Ojibwe Nation located in Southern Ontario. He is of the Bear Clan and works closely to preserve Ojibwe culture through song, ceremonies and protection of natural systems within his traditional territory.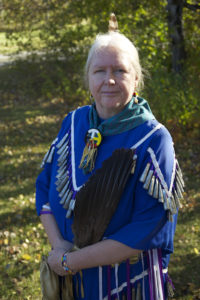 Melody Crowe
Melody Crowe is a Michi-Saagiig Anishinaabe Woman from Alderville First Nation which is located on the South Shore of Rice Lake, Ontario. She has dedicated her life to creating a deeper understanding and appreciation of First Nation culture, knowledge, language, and history, and has more than 25 years of teaching the Ojibway language to children, youth, adults, and Elders. She works from the place of honouring her Ancestors and honouring the importance of Indigenous Peoples and ways of knowing. In 2007, Melody received the Lifetime Achievement Award for her work in the preservation of language and culture from the Union of Ontario Indians, and in 2015, the Honouring Our People Award from the Ogemawahi Tribal Council. Melody is also an eagle feather carrier, a jingle dancer, and a photographer.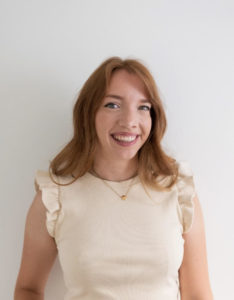 Erin Szikora, Moderator
Erin Szikora is an emerging curator, researcher, and beadwork artist of Cayuga, Scottish, and Hungarian ancestry. She holds a Bachelor of Arts in Art History and Visual Studies from the University of Toronto (2018) and a Master of Arts in Contemporary Art, Design, and New Media Art Histories from OCAD University (2020). Erin currently works as Assistant Curator – Indigenous Projects at The Robert McLaughlin Gallery.
Conversations on Ezhi-gashiwing Deniiwan: Part 2
Lacie Burning
Lacie Burning is a Kanien'kehá:ka (Mohawk) multi-disciplinary artist and curator raised on Six Nations of the Grand River located in Southern Ontario. They work in photography, video, installation, and sculpture and will graduate with a Bachelor of Fine Arts at Emily Carr University of Art + Design with a focus on Indigenous Art. Having come from a culturally and politically grounded upbringing, their work focuses on politics of Indigeneity and identity from a Haudenosaunee perspective.
Sarah MacLeod-Beaver
Sarah MacLeod-Beaver is an Anishinaabemowin language teacher from Alderville First Nation. Currently she resides in Lakefield, Ontario with her husband and two daughters. Sarah facilitates a weekly family language program through the First Peoples Indigenous Centre at Durham College in Oshawa. In the past, she has taught Anishinaabemowin as a second language in the provincial and First Nations school systems. Sarah is a life-long learner of Anishinaabemowin who has developed her fluency through immersion learning and mentorship programs. She believes strongly that anyone can learn the language and advocates for creating community spaces where people can speak Anishinaabemowin with one another.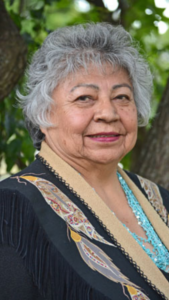 Dr. Elder Shirley Williams
Shirley Williams is a member of the Bird Clan of the Ojibway and Odawa First Nations of Canada. Her Anishinaabe name is Migizi ow Kwe meaning Eagle Woman. She was born and raised at Wikwemikong, Manitoulin Island and attended St. Joseph's Residential School in Spanish, Ontario. After completing her NS diploma, she received her BA in Native Studies at Trent University and her Native Language Instructors Program diploma from Lakehead University in Thunder Bay. Shirley received her Master's Degree from York University in Environmental Studies. In June of 2004, Shirley retired from the Indigenous Studies Department and now holds the title, Professor Emeritus. Shirley received her honorary doctorate from the University of Ontario Institute of Technology in 2017 for her outstanding achievement in post-secondary education pedagogy, her advocacy of Indigenous language teaching, and her ongoing inspirational community leadership.
Missy LeBlanc, Moderator
Missy LeBlanc (Métis, nêhiyaw, and Polish) is a curator, researcher, and writer based on what is now known as the Canadian Prairies where she is currently the Curatorial Resident at TRUCK Contemporary Art. In 2019, she was the winner of the Middlebrook Prize for Young Canadian Curators and a runner-up for the Canadian Art Writing Prize. LeBlanc holds a Bachelor of Arts from the University of Alberta, double majoring in the History of Art, Design, and Visual Culture and Sociology (2015) and a Diploma in Arts & Cultural Management from MacEwan University (2017). LeBlanc is currently a graduate student at the University of Winnipeg where she is working towards obtaining a Master of Arts in Cultural Studies, Curatorial Practices.
[1] Gessner, Suzanne and Lorna Wanosts'a7 Williams. Indigenous Languages Recognition, Preservation and Revitalization: A Report on the National Dialogue Session on Indigenous Languages: Abridged Version. Brentwood Bay, BC: First People's Cultural Council, 2017.
Mamanaw Pekiskwewina | Mother Tongues: Dish With One Spoon Territory is presented in partnership with TRUCK Contemporary Art.

We acknowledge the support of the Canada Council for the Arts and the Ontario Trillium Foundation for this project.