Virtual Program
March 12, 2021 12:00 PM - May 28, 2021 12:00 PM
Infuse some culture into your lunch break!
Oshawa's galleries, libraries, archives, and museums have been actively engaging the community virtually through the pandemic. We're collaborating on a series of programs to share stories and talks with our audiences over the coming months.
Join one of Oshawa's cultural organizations every Friday at 12PM starting March 12 for a fun, accessible series of talks and programs intended to support connection and well-being.
To participate, simply click on the links below each session to join. There is no need to pre-register. Keep an eye out for new sessions added to this page!
Presented in collaboration with the Ontario Regiment RCAC Museum, Oshawa Museum, Oshawa Public Libraries, the Canadian Automotive Museum, and Parkwood National Historic Site.
Upcoming Chats:
May 21 –
The Ontario Regiment RCAC Museum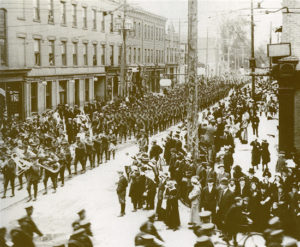 Learn more about the history and development of the Ontario Regiment RCAC. In 1914 Canada is embroiled in a conflict of Global proportions… The Great War. The 34th Ontario Battalion is quick to prepare for War and raises two Canadian Expeditionary Force Battalions to serve overseas for the first time in our history.
---
May 28 – Parkwood National Historic Site
Parkwood Hunters and Jumpers
Join Parkwood as we explore the history and stories associated with the equestrian stables and the legacy of the hunters and jumpers of Parkwood Stables, when it was located on the 12 acres of the Estate, in the years before 1934.
---
Previous Chats:
March 12 – The Robert McLaughlin Gallery
Stories Behind the Art
We get really excited about art! Join us as two of our curatorial team members, Val Frappier and Heather Riley, share how they've been inspired by different themes in our collection – Lake Ontario and the colour and vibrancy of printmaking in the cold of winter.
View a recording of this session here:
---
March 19 – Oshawa Museum
Interpreting Thomas Henry
Jennifer Weymark, archivist at the Oshawa Museum, will share how the Museum's telling of the story of Thomas Henry has evolved over the years. It will focus on how they have used a variety of primary sources to present a more whole interpretation of who Thomas Henry was and his impact on the community.
No recording available. 
---
March 26 – Oshawa Public Libraries
DNA Testing Demystified
Genealogy is one of the fastest-growing hobbies, and new developments in consumer DNA testing have added a whole new dimension to exploring your roots. However, the results from this testing can sometimes be confusing. Oshawa Public Libraries' Local History and Genealogy Librarian Nicole Adams will explore the different types of tests available and what they can reveal about your family history. To Learn more about Oshawa Public Libraries programming visit oshlib.ca/signup
View a recording of this session here:
---
April 9 – Parkwood National Historic Site
War in the Kitchen
In 2019, Parkwood launched a new historic foodways program experimenting with the six years of WWII food practices using the advice of the Toronto Star food columnist of the era, Marie Holmes. Interpreting Marie's suggested menus and recipes, Parkwood is currently focused on April 1941, creating, and testing the recipes in real time, plus 80 years. The immersive culinary experience captures the imaginations and heritage enthusiasm of the Parkwood volunteers and the general public, recently being broadcast nationally by the CBC Sunday Magazine with Piya Chattopadhyay. In this exploration of our shared experiences with food, and historic foodways, join Parkwood's Curator – Samantha, as she describes the project, and the pivots due to COVID, working with rations, and the food practices of eighty years ago.
https://us02web.zoom.us/j/88058486431?pwd=NnVxUUlaNmlFenpFcnNtYzNjQ0h4Zz09
---
April 16 – The Ontario Regiment RCAC Museum
The Early Militia in Ontario County
Learn more about the early development of militia units in Ontario County ( Now Durham Region ) from the War of 1812 to the final organization and development of the 34th Battalion which is the forerunner to Ontario Regiment; our current Regional Reserve Unit.
View a recording of this session here:
---
April 23 – The Canadian Automotive Museum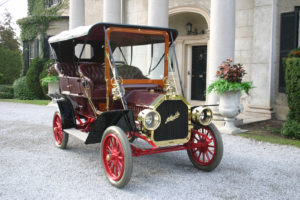 Oshawa's Automotive Community: 1867-1937
From a humble 19th century carriage works to the largest automotive assembly plant in North America, Oshawa, Ontario has produced more than 20 million transportation vehicles. The legacy of producing carriages and automobiles has shaped a unique community, which continues to evolve in the 21st century. Join Canadian Automotive Museum Curator, Alexander Gates and Special Project Coordinator, Dumaresq de Pencier as they explore Oshawa's automotive community origins up through the 1930s. This talk will include an overview of the McLaughlin Carriage Works, the development of the first McLaughlin-Buick automobiles, the formation of General Motors Canada, and the boom years of the 1920s.
View a recording of this session here:
---
April 30 – The Robert McLaughlin Gallery
Stories Behind the Art Part II
Storytelling forges connections between people and ideas, making it a powerful and effective tool in talking about art. The Robert McLaughlin Gallery's Curator of Collections, Sonya Jones, will share stories that bring new meaning and appreciation to the artwork in the gallery's collection, that are both interesting and entertaining.
View a recording of this session here:
---
May 7 – Oshawa Museum
Chinese-Canadian History: An Oshawa Perspective
Since 2002, May has been declared Asian Heritage Month in Canada. The history of Asian immigration in Canada can be traced back to more than one hundred and fifty years ago when Chinese workers arrived in the west coast and joined the workers to build the Pacific Railway in the mid-nineteenth century. Asian Canadians not only physically helped to build Canada, but also culturally enriched its diversity, which has become an important characteristic of Canada. This talk will focus on the long, and at times difficult, history of Chinese immigration to Canada from the perspective of local families and their experiences.
View a recording of this session here:
May 14 – Oshawa Public Libraries
Find Yourself Here: The History of Oshawa's Public Library Service
Library service has a rich history in Oshawa, beginning in 1864 as a reading room in the Oshawa Mechanic's Institute. As Oshawa grew from village to town to city, we grew along with it and we will explore this evolution through documents and images. 157 years have seen a lot of changes to the services we offer, but the core of what we do remains the same – connecting people to information and each other.
View a recording of this session here: