Indigenous Film Screening
June 01, 2021 9:00 AM - June 30, 2021 11:59 PM
Programmed by Samuel Powless and Leila Timmins
"There is such a thing as an Indian aesthetic, and it begins in the sacred."
– Victor Masayava Jr.
In the late 1960s and early 1970s, many Indigenous artists and storytellers began to turn to a new medium: film. In the time since, Indigenous cinema, or "Fourth Cinema"1, has come to be defined by the will of Indigenous filmmakers to tell Indigenous stories through an Indigenous lens. Over the last 60 years, Fourth Cinema has become a distinctly anticolonial media, evolving from and supporting social and political movements from Red Power to Idle No More and beyond. In Canada, many early Indigenous films were initially supported by the NFB's Challenge for Change program, which sought, in part, to train Indigenous filmmakers as well as to fund socially engaged filmmaking. There was also a proliferation of independent film and video production at the time. Indigenous filmmakers first started working primarily in documentary before quickly moving into other forms including animation, experimental, and narrative works.
The wide range of types of films produced by Indigenous filmmakers reflects the variety of cultural identities contained within the term 'Indigenous'. Film theorist Houston Wood argues that the aesthetic diversity among Indigenous films and filmmakers means that, "it is impossible to generalize about them."2 Instead, he proposes a critical theory that considers the "dimensions of difference" between Indigenous films with regards to the way they approach hiring, production, content, form, and cultural value.3 That said, for all the difference found among Indigenous films, one commonality is that most contain reference to (if not an outright exploration of) Indigenous cultural practices, language, or conceptions of land. This screening brings together a number of films that are primarily concerned with land and nourishment….
Over the last twelve months many members of our staff have been fortunate enough to discuss land-based practices and histories with some incredible Indigenous artists, academics, and curators. The selection of these particular films is the result of much reflection on those conversations and experiences as well as on Will Kwan's exhibition Terra Economicus and the Food Sovereignty panel discussion hosted by the RMG earlier this year. Taken together, the films chart the shifting of the seasons, from the deep winter to breakup to the arrival of the Thunders and the harvesting of crops. While all the works reference Indigenous understandings of the land in some way, the wide variety in both the relationships Indigenous peoples have with land as well as the genres Fourth Cinema filmmakers work in is apparent throughout.
Of course this is but a glimpse into the world of Fourth Cinema- we hope this short screening inspires you to learn and watch more of the incredible work being done by Indigenous filmmakers.
1. This term was first coined by celebrated Maori filmmaker Barry Barclay.
2. Houston Wood, "Dimensions of Difference in Indigenous Film," in Native Americans on Film: Conversations, Teaching, and Theory, ed. M. Elise Marubbio and Eric L. Buffalohead (Lexington: University of Press of Kentucky, 2015), 52.
3. Wood, "Difference", 52.
---
Lake | 2019 | 5 min | Dir. Alexandra Lazarawich
Cree director Alexandra Lazarowich riffs off classic verité cinema to craft a contemporary portrait of Métis women net fishing in Northern Alberta.
Waiting for the Ice to Melt | 2003 | 5 min | Dir. Darlene Naponse
An experimental vision of ice melting, signifying what we wait for and what waits for us.
The Patient Storm | 2006 | 8 min | Dir. Dana Claxton
This short work is a conversation between Storm and Lightening. Storm is an elegant, knowledgeable, patient woman. Lightening is a trickster type, a stylish, crazysexycool girlish woman who talks somewhat in riddles and rhyme.
Tsi tkahéhtayen (The Garden) | 2009 | 11 min | Dir. Karahkwenhawi Zoe Leigh Hopkins
A mystical gardener harvests fruits from the earth that defy everyone's expectations.
The Gift | 1998 | 48 min | Dir. Gary Farmer
Before colonization, corn was widely used as a beverage, a food staple, an oil, and a ceremonial object- it was respected and revered as a critical part of Creation. This short documentary examines the role of corn in the lives of Indigenous peoples in the Americas.
Combining interviews, dance, and song, The Gift captures the traditional, spiritual, economic, and political importance of this sacred plant.
Part 2: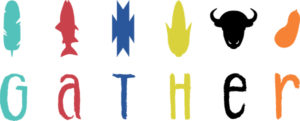 Link to the film: https://illumine.vids.io/videos/069cd7bb1d18e5c48f/gather-screener-the-robert-mclaughlin-gallery
Password: Gather2021x
Gather | 2020 | 74 min | Dir. Sanjay Rawal
Gather is an intimate portrait of the growing movement amongst Native Americans to reclaim their spiritual, political, and cultural identities through food sovereignty, while battling the trauma of centuries of genocide. The film follows Nephi Craig, a chef from the White Mountain Apache Nation (Arizona), opening an Indigenous café as a nutritional recovery clinic; Elsie Dubray, a young scientist from the Cheyenne River Sioux Nation (South Dakota), conducting landmark studies on bison; and the Ancestral Guard, a group of environmental activists from the Yurok Nation (Northern California), trying to save the Klamath river.
This screening is part of a series of programming produced in partnership with Bawaajigewin Aboriginal Community Circle to celebrate National Indigenous History Month in the Durham Region. Other community events and programs can be found here: durhamindigenoushistorymonth.ca.