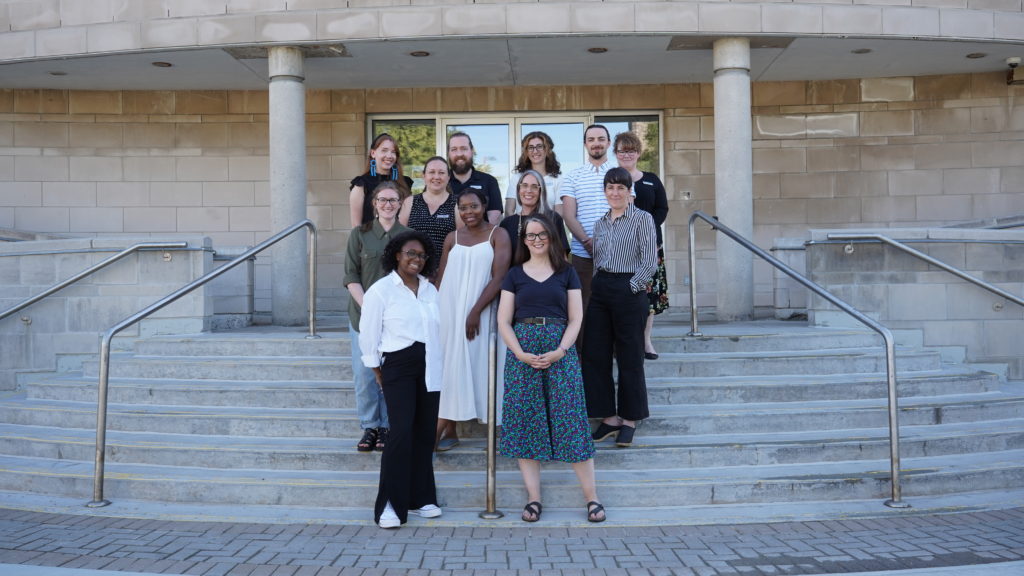 Lauren Gould

CEO
Roanna Green

Director, Finance and Operations
Leila Timmins

Senior Curator
Sonya Jones

Curator of Collections
Hannah Keating

Associate Curator, Public Programs
Erin Szikora

Greenspace + Public Art Project Coordinator
Sara Rodriguez

Manager, Marketing and Communications
Brianne Hunte

Marketing & Social Media Assistant
Emeraude Domingos-Mbuku

Development & Membership Lead
Jennifer Welch

Learning & Engagement Lead
Brendan McGowan

Security & Facilities Coordinator
Stacey Snow

Visitor Engagement Assistant
Carole Blackburn

Visitor Engagement Assistant
Anna Kissoon

Visitor Engagement Assistant
Board of Directors
Carrie Williamson

Board Chair

Carrie Williamson is a relationship management, change management and project management professional, she is currently the Technology and Innovation Services Client Services Manager at the Town of Whitby. Carrie has been a volunteer at the RMG since 2014 where she started as a studio assistant and special events volunteer. Carrie is passionate about the arts and their critical role in building community.
Mary Simpson

Vice Chair

Mary Simpson is a long-time resident of Durham Region with governance experience on local post-secondary institutions and an extensive career with the Region of Durham including a well-established background in financial planning, public procurement and strategic leadership. She holds an accounting designation (CPA, CMA) as well as a Master's in Economics from the University of Toronto with an undergraduate degree in economics and mathematics from Glendon College, York University.
Kegan Winters

Treasurer

As Vice President, Commercial Financial Services, Kegan leads a local team of industry specialized Commercial Account Managers supporting the Durham Region. Providing industry-specific advice and solutions to local businesses to help them grow is a key focus for Kegan and his team. They continue to look for opportunities to build strong relationships in the business community in order to contribute to the fabric of the Durham Region. Kegan joined RBC over 11 years ago and has held progressive roles in business banking including Commercial Account Manager and Manager Risk Management. In addition to his depth of experience, Kegan has a Bachelor of Arts from McGill University and an MBA from University of Toronto. He is Treasurer on the Board of Directors for The Robert McLaughlin Gallery. He and his wife are proud parents of two young children.
Lory Drusian

Secretary

Lory is a seasoned museum professional with over 35 years of experience leading capital and major exhibition projects at the Royal Ontario Museum. Rising through the ranks from Project Manager to her current role as Vice-President, Major Project Management, Lory has built a solid reputation for getting things done and treating people fairly and respectfully in the process. As part of the Renaissance ROM planning team, Lory played a key role in master planning and preparations for the museum's major building project in 2003. She has led teams through complex exhibition and gallery projects including Egyptian Art in the Age of the Pyramids, the Life in Crisis: Schad Gallery of Biodiversity, and the Teck Suite of Galleries: Earth Treasures. Lory has benefited from professional development opportunities at the Banff Centre for Arts and Creativity, York University's Schulich School of Business, and the Rotman School of Management at the University of Toronto. She is a member of a wide range of professional associations around the world including the Canadian Museums Association, the American Alliance of Museums, and ICOM. Lory has lived in Durham region with her family for 25 years and was an active member and leader in the Pickering Soccer Club for three years. She values sharing her experience with the next generation of museum professionals and welcomes this opportunity to support her local community.
Cheryl Blackman

Past Board Chair

Cheryl Blackman is the Director of Museums and Heritage Services with the City of Toronto where she is responsible for the ten city-owned and operated historical museums, the city collection of historical objects, archaeological specimens, moveable fine art and an extensive portfolio of heritage buildings. Prior to joining the City of Toronto, Cheryl served as the Assistant Vice-President of Audience Development at the Royal Ontario Museum (ROM). Her responsibilities included managing the front of house, audience research, and acting as the Museum's liaison to more than 1300 Volunteers. She established the ROM's Community Access Network (ROMCAN) which she grew to more than 80 partnerships with community organizations. Cheryl holds a Bachelor of Social Work (BSW), and a Master of Business Administration (MBA), and is a Fellow of Inclusion and Philanthropy from the Association of Fundraising Professionals (AFP). She is the Chair of the Board at the Robert McLaughlin Gallery.
Shashi Bhatia

Board of Directors

Shashi is a leader and a community builder, who is committed to promoting tolerance, understanding and inclusiveness for all. A founding Chair of the Indo-Canadian Cultural Association of Durham (ICCAD), she is a driving force behind the highly successful "Roots and Drum" concerts in support of the Durham West Arts Centre. She is a member of Board of Trustee of Lakeridge Health, a member of Diversity and Community Advisory committee of Durham Regional Police Service, and a Durham Ambassador (Influencer) of Canadian Armed Forces. She has co-founded various cultural and heritage organizations in Durham region. Shashi has served on many provincial and federal quasi-judicial boards and tribunals, including the Immigration and Refugee Board, the Consent and Capacity Board and the Social Benefits Tribunal. She appeared as a trail blazer in the East Magazine of Durham Region. She is the recipient of numerous awards and recognitions and commendation for her service to the community, including a leadership award from Toronto Police Service and the Queen Elizabeth II Diamond Jubilee Medal.
Kevin Dougherty

Board of Directors

As the Associate Dean in the School of Interdisciplinary Studies at Durham College he is responsible for the administration, and delivery of all Communications and General Education curriculum as well as the General Arts and Sciences certificate programs housed in the school. Prior to becoming Associate Dean, he held a faculty position in the School of Business, IT and Management at Durham College for 17 years responsible for curriculum development and delivery in the areas of programming, database design and business systems analysis. A graduate of Information Systems at Durham College he also holds a M.A. in Adult Education and Digital Technologies from UOIT. His research focuses on the adoption of digital technologies into the teaching and learning practices of community college faculty across Ontario. His previous governance experience includes six years as the elected faculty member to the Board of Governors for Durham College during which time he also was a member and vice-chair of the Audit and Finance Committee of the Board.
Georgia Fullerton

Board of Directors

Georgia Fullerton is a practicing visual artist, an Expressive Arts Therapist, arts-educator and public speaker. Earning a Bachelor of Arts degree in Fine Arts at York University, she is the former Vice-President of the Ontario Expressive Arts Therapy Association, and sits on the Program Advisory Committee for the School of Media Art and Design at Durham Colleges' Oshawa campus. Engaging all sides of her creative prowess, Georgia deepens her understanding and practice of the arts in the mental health sector and strives to engage all people in the acceptance of art making as a core life skill.
Philip Marmina

Board of Directors

Philip is a solutions and results focused commercial, sales, marketing and business development executive with experience in start-ups, small-mid sized companies and multinationals. Philip puts his people first and dives headfirst into solving problems by putting customer's needs first. His teams have a reputation of achieving great results and driving revenue growth. Philip's career has been focused in the healthcare sector where he has led the commercial activities for a number of organizations. He holds a Bachelor of Business from Ryerson University and a Masters of Business Administration from Dalhousie University. Philip's personal profile is shaped by strong family values, a superior work ethic, a passion to give back to his community and an integrity driven competitive nature that drives him to succeed and motivate those around him. He is happily married, has two daughters and lives in the Durham region.
Taba Merrikh

Board of Directors

Taba Merrikh is the VP, Operational Finance at AEL with over 20 years of experience in service and the manufacturing industry. Her responsibilities include cash management, budgeting, costing, debt to equity planning, fundraising (Series A, B), IPO, exchange management, ERP system implementations, governance & compliance, process improvement and project & change management. Taba's love for community and wellness has led her to form a beautiful community in downtown Oshawa, LAVA Yoga. She holds an MBA from Queen's University.
Aleksi Moriarty

Board of Directors

Aleksi Moriarty is a computer artist and fine-art photographer. He received his BA in computer art from Hampshire College, then pursued an MFA in experimental animation at the California Institute of the Arts. Aleksi has been a senior FX Animator & Technical Director on blockbuster movies and TV shows including The Matrix, Minority Report, and Paw Patrol. His visual music animations have played at international film festivals and live concert halls. In 2014, his work was admitted to the permanent photography archives of The McMichael Canadian Art Collection. Originally from Connecticut, Aleksi became a Canadian citizen in 2012.
Donna Moriarty

Board of Directors

Donna Moriarty is a Certified Fund-Raising Executive (CFRE), who has helped strategize on campaigns of all sizes from $1 thousand to $1 billion, at institutions like: Ryerson, McMaster, UC Berkeley, UCLA, CAMH and the Canadian Museum of Civilization, among many others. Donna and her husband raised their son in Durham and she cherishes the local arts which empower our children, warm our hearts, expand our minds, and challenge us to be fully human.
Gerard O'Neil

Board of Directors

I am a retired elementary teacher who has worked in schools across Durham Region. Before I retired in 2015, I was the President of the Durham Elementary Teachers Federation. I have been actively involved in the community for many years. I have a deep love of the arts and have acted in a number of plays at the Oshawa Little Theatre, Whitby Courthouse Theatre and with the Pickering Players. I have also been involved with questions around food insecurity in Durham and presently I am the chair of the Harmony Community Garden. I have served on the Board of the RMG for a number of years in a variety of capacities. Art expresses the wonder and sometimes the despair of being human. It is a privilege to be a small part of the journey.
Annie Pinet

Board of Directors

Annie Pinet is a marketing and business development professional with nearly 20 years' experience in the professional services industry with a focus on helping small to mid-size private companies grow and thrive. Currently, Annie is responsible for the co-development, operations and execution of the go-to-market plan and strategy for the Private Company Services practice for the cities of Toronto, Montreal and Quebec for PwC Canada. Supporting each city's Private Company Leader and team with growth objectives through business development operations, integrated marketing strategy & planning and account management. Annie has been a resident of the city of Oshawa for 33 years, passionate in supporting and helping her community, and a music and art lover.
Councillor Derek Giberson

Council's Representative
PAST CHAIRS

Mr. Ian Biggar 1969

Dr. B.Wood 1970-1971

Mr. E.F.Bastedo 1972-1973

Mr. E.Samuel 1974-1975

Judge Donald Dodds 1976-1977

Mr. C.S.McTavish 1978

Ms. Mae Nurse 1979

Mr. Terry Kelly 1980-1981

Ms. Doris Lane 1982

Ms. Frances Jones 1983-1984

Mr. Ron Worby 1985-1987

Mr. Jack Wiley 1988-1989

Mr. Terry Russell 1990-1991

Ms. Meral Altinbilek 1992-1993

Ms. Judy Spring 1994-1996

Mr. Millar Drummond 1996-1998

Mr. Stephen Rowlands 1998-2001

Mr. John Bell 2001-2003

Mr. Jeff Rosenthal 2005-2008

Ms. Jan Lean 2008-2010

Mr. Michael Crunkhorn 2010-2012

Mr. Richard Mazar 2012-2013

Dr. Christine Castle, 2013-2015

Malcolm MacTaggart, 2015-2015

Olivia Petrie, 2015-2017

Kevin Dougherty, 2017 – 2019

Cheryl Blackman, 2019 – 2021