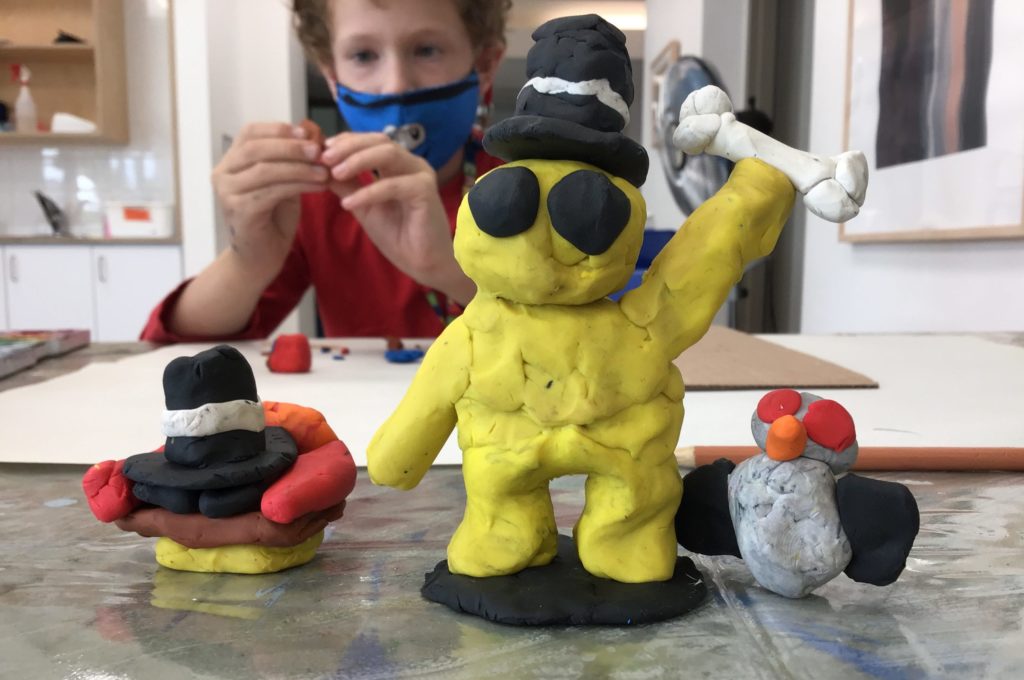 July 4 to August 26, 2022 from 9am to 4pm
Ages 5 to 7 and ages 8 to 12
$180 Members/$190 Non-Members
*4 day camp $145 Members/$155 Non-Members
This summer, we have two rotating camps throughout for children ages 5-7 and ages 8-12 years old. Both camps encourage campers to explore the exhibitions with interactive content, use a variety of art materials, play indoor and outdoor games, and more!
Register for Summer Camp 2022 HERE.
Imaginative Innovators
Dream big and try something new! Young artists will explore a variety of art media including painting and printmaking, relief and 3D sculptures, as well as drawing materials. This themed camp encourages campers to invent, explore and discover art in creative new ways. This camp is inspired by special exhibitions.
July 4 to July 8
July 18 to July 22
Aug 2 to Aug 5 (* 4 days) (Ages 8 to 12 and 5 to 7 is full)
Aug 15 to August 19 (Ages 8 to 12 and 5 to 7 is full)
Travelling Explorers
Whether we are exploring the world through art or travelling to our imagination, this camp is surely to inspire young minds. This themed camp is for creative kids who don't mind getting a bit messy while making their own paintings, prints, sculptures and more! This camp is inspired by artworks in the Permanent Collection.
July 11 to July 15 (Ages 5 to 7 is full)
July 25 to July 29 (Ages 8 to 12 is full)
Aug 8 to Aug 12 (Ages 8 to 12 is full)
Aug 22 to Aug 26 (Ages 5 to 7 is full)
COVID -19 protocols and guidelines
We will continue to follow COVID -19 protocols and guidelines outlined by the Durham Region Health Department and the Province's Chief Medical Officer. Our goal is to ensure the health and safety of staff and participants, and create an enjoyable summer experience.
Should we be unable to offer onsite camps, we will do our best to offer alternative options to keep your child engaged with art making experiences this summer. If we must cancel summer camps due to public health restrictions, we will issue full refunds. Cancellations by participants will be subject to our cancellation policy.
Here's how Summer Camp will look this year:
The RMG will remain closed to public on Mondays – only camp participants onsite
Drop-off between 8:45am and 9am
Small camp cohorts
Mask friendly camp for staff, volunteers and participants
Rigorous cleaning throughout the day
Pick-up at 4pm
Frequently Asked Questions
If you have questions or concerns that aren't addressed here, please feel free to contact the Learning Department. More detailed information about camps and the Summer Learning Team will be sent to registered families prior to the first day of camp.
I see that you do online registrations, can I register in-person or over the phone?
While we prefer online registrations, we do accept in-person (cash, debit, VISA and Mastercard) and phone registrations (VISA and Mastercard). There is a mandatory registration form that needs to be completed fully for each camper at the time of payment. These forms are reviewed by staff and documented in order to ensure we know what's what, and who to contact. We may reach out to families if we have follow-up questions prior to camp.
Families who choose to make payment over the phone will be emailed a copy of the registration form. The form must be filled out and sent back as soon as possible to secure the spot.
What is your maximum capacity?
15 campers maximum per camp.
What if I have a child that is outside the age range, can they still join?
All of our camps are geared specifically for children within the designated ages. In order to ensure the best experience for everyone, participants must fall within the indicated age range.
Are pre- and post-care available?
No, unfortunately, we are not able to offer this service.
Can I register for one or two days instead of the whole week?
Unfortunately, we ask families to commit to the full week as often our art making fun requires multiple days to complete (many requiring time to dry before paint or adding final details).
What type of activities have you planned, are campers outside at all?
This year, we are offering two different camps, each camp uses similar materials but in different ways; campers spend equal time in the Lookout and the Studio. Both camps will have in-gallery interactive visits include looking activities, games, and sketching. We also have a new fully fenced space! We plan to eat snacks and lunch outside, and play games, if the weather is agreeable. We will also take advantage of beautiful days with outdoor art making projects whenever possible.
Do you provide snacks/lunch?
Parents are asked to pack a water bottle, peanut free snacks and lunch daily. There are two snack breaks and lunch is from 12-1pm.
What else might my child need to bring?
We recommend sunscreen and a hat for outdoors, if you believe your child may need a change of clothes please provide that. The RMG is air conditioned and some campers may feel more comfortable having a hoodie/sweater on hand should they feel cold throughout the day. Please ensure your child wears art friendly clothing and comfortable footwear.
What is the staff to camper ratio?
We aim for a minimum of 1 to 7 ratio.
Do you provide a "kiss and ride"?
Drop-off takes place from 8:45am – 9:00am. On the first day, we ask campers are signed in with a staff member in the front lobby. Families can choose to escort their camper to their "homeroom" or a camp staff member can ensure your child gets to their room.
Families may choose to do a "kiss and ride" drop off in the mornings at the front of the building Tuesday to Friday starting at 8:45am.
We require all families to pick up their camper in the lobby at the end of each day at 4pm. Only authorized adults will be allowed to sign out campers.
Register for Summer Camp 2022 HERE.