Part of Oshawa's charm comes from its natural and architectural heritage, which is heightened by the community's beautiful landscape and gardens. This collection of photographs from The Thomas Bouckley Collection looks back at Oshawa's historical gardens and celebrates the community's long and continued tradition of producing beautiful private and public gardens.
Oshawa has various associations that promote community and public gardens, including The Oshawa Garden Club, formerly the Oshawa Horticultural Society, established in 1931. The society has long encouraged horticulture throughout the city and promoted the creation and upkeep of public gardens to enhance Oshawa's green spaces. Its membership has always had a passion for gardening and are devoted to maintaining Oshawa's horticultural beauty.
The City of Oshawa is also dedicated to this cause. The landscape team grows all of their own flowers in city greenhouses, designing, planting, and maintaining Oshawa's many public gardens, flower displays and hanging baskets that brighten the downtown and park spaces. Over the last few years, the city has also increased the number of community gardens located on city-owned land. These gardens are community driven projects run by volunteers and local community groups, with a deep commitment to community engagement and learning. Additionally, Oshawa has been designated a Bee City by Bee City Canada for its commitment to maintaining and developing pollinator-friendly public gardens and amending by-laws to encourage planting and reduce mowing.
For over 20 years, Oshawa has participated in the Communities in Bloom competition. The organization evaluates communities based on landscape, gardens, community involvement and overall cleanliness, and has recognized Oshawa with numerous Provincial, National, and International awards. While these awards honour the recent history of Oshawa's landscape, these photographs show there is no doubt that the city has always been home to beautiful public and private gardens.
George McLaughlin Home, c. 1905

Formal flowerbeds of perennials decorate the front of the house. This house was torn down in 1910 and G.W. McLaughlin had a new home built in its place.
Robert McLaughlin Home, c. 1880

Hanging pots and window boxes adorn the verandah. The curved driveway is lined by trees, shrubs, and a neatly edged lawn. This residence later served as the St. Andrew's United Church manse for some years before it was torn down.
F.W. Cowan Residence, c. 1915

In the front of this house is a grand curving driveway and formal gardens. The house is located at Simcoe Street and McGrigor Street, the current site of Adelaide House, YWCA.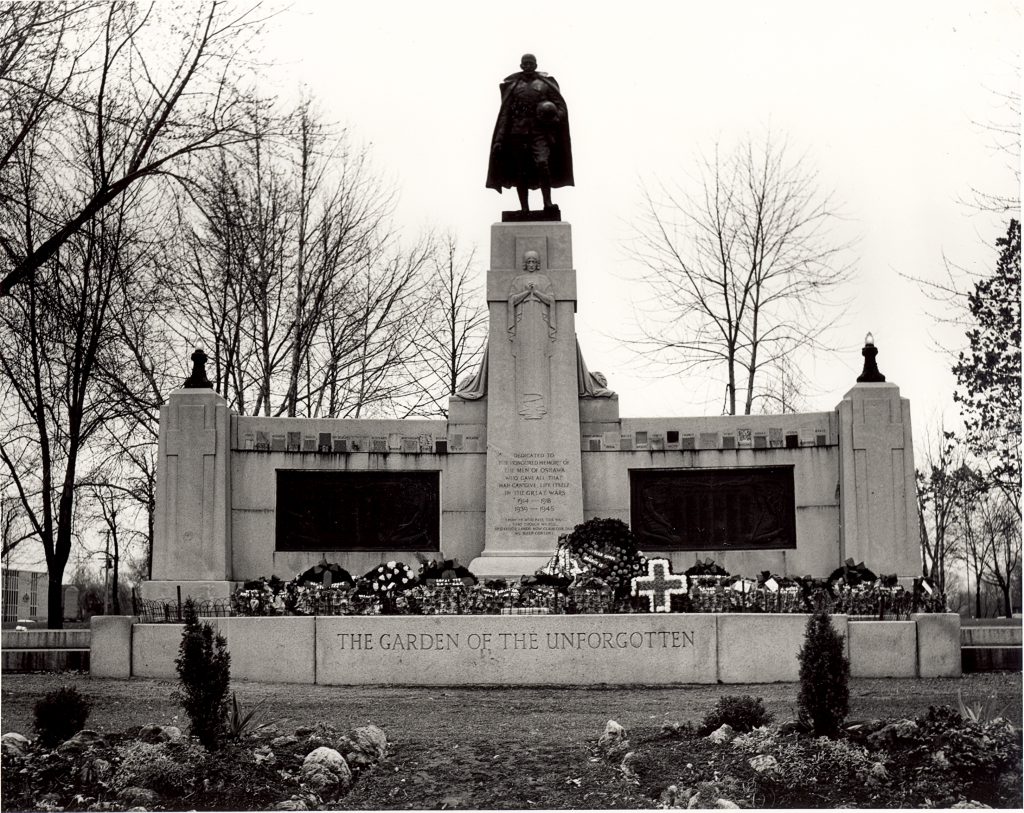 War Memorial, Memorial Park, c. 1930

The war memorial that stands today in Memorial Park is due to the efforts of Dr. T.E. Kaiser,, who along with the memorial committee, undertook a massive fundraising drive to ensure a memorial that honours those who served in WWI. It was unveiled on Nov. 11, 1924. The memorial and the surrounding gardens is called "The Garden of the Unforgotten."
Backyard of King Street East Home, 1960

A rare glimpse of a backyard garden located at 339 King Street East.
John Ritson Home, c. 1905

Located at Ritson Road and Olive Avenue, this clapboard house has a large clematis vine covering a trellis beside the front entrance. A well cared for flower garden boarders the perimeter of the house. A wooden walkway leads past the house towards the side yard where there is a wooden windmill, which was built in 1890.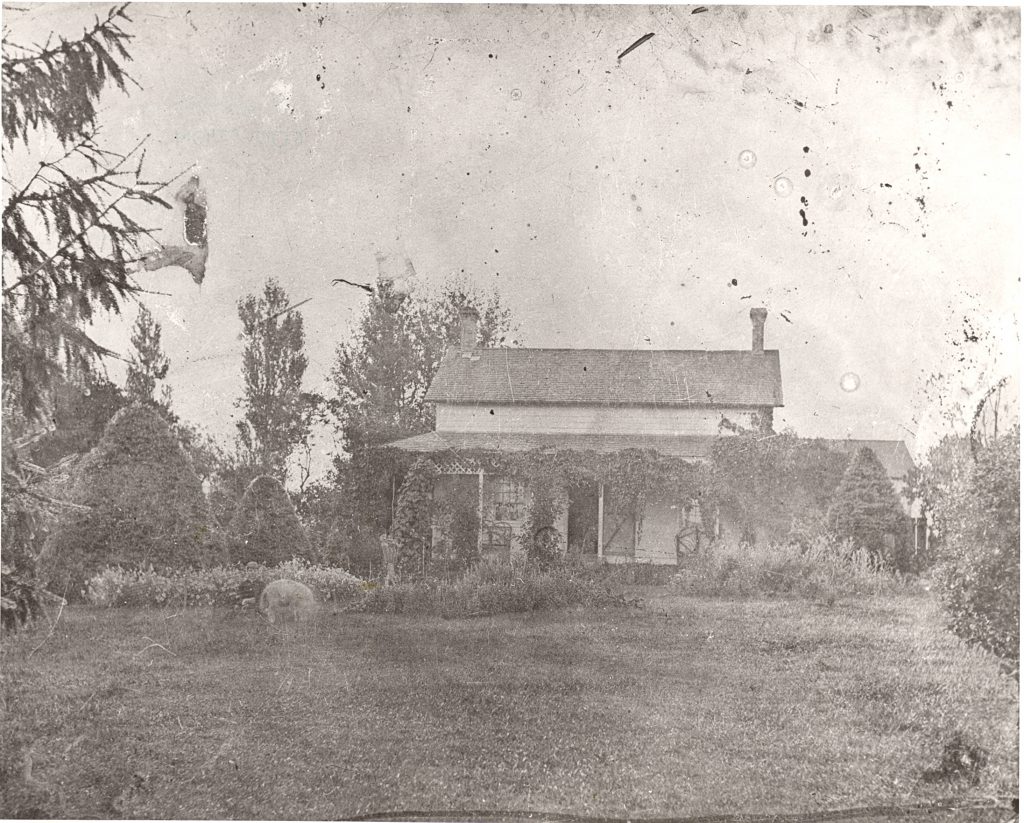 Guy House, c. 1880

This clapboard house located on Sydenham Farm at Bonniebrae Point, near Henry Street and Lakeview Park Avenue has a large front yard full of pruned shrubs and flowerbeds. Two chairs are set on the front porch for looking out to the garden.
Mothersill Home, c. 1890

A picket fence surrounds the Mothersill property that was located at Cedar Street and Thomas Street. Mature trees bracket the view of the front verandah and garden where several family members are seated. All are identified, left to right: Fred Mothersill, Mary Robinson Mothersill, Charlotte Mothersill, Howard Mothersill (son of Eugene), and Eugene Mothersill.
King Family Residence, 1890

William King, a major property owner in Oshawa, purchased this property. Later it became a hostel for men called "The House of Friendship" and later still it was used as a children's shelter.

The matriarch of the family is sitting in a rocker on the lawn in front of the verandah decorated with hanging baskets.
Mothersill Home, Cedar Dale, c. 1905

Without the space for a garden in the front, this family decorated their home with potted plants and a cascading window box.
Children Posed in Front of Home, 1960

Four children pose in the front garden of their home at 339 King Street East.
Prospect Park, c. 1910

This privately owned park is now the site of Parkwood Estates and Gardens. The grounds were first owned by J.B Warren, who built a large wooden home here. It then came into the possession of W.H. Gibbs, who built his palatial residence that is known as "Prospect House" on this block. Succeeding owners were Colonel Mulligan and Eli Edmondson. R.S. McLaughlin had Prospect House torn down and erected the present Parkwood residence c. 1915.

Note the decorative pathways, gazebo, and electric lights.
Oshawa Fair – Robert Brooks Display, c. 1906

Members of the Brooks family are shown here in front of their vegetable display at the Oshawa Fair, which was held at Alexandra Park.
Blinkbonnie, c. 1883

Owned by John Wilson, this two storey "Regency Style" house located at the south-west corner of King Street east and Wilson Road. The former sea captain had a pond installed in his garden and named the estate Blinkbonnie. In the image, trees and shrubs fill the garden and a man can be seen in the background enjoying a ride in a steam-powered paddle-wheeler.
Robert McLaughlin Funeral, 1921

This photograph was taken at the memorial service for Robert McLaughlin at the Parkwood estate gardens.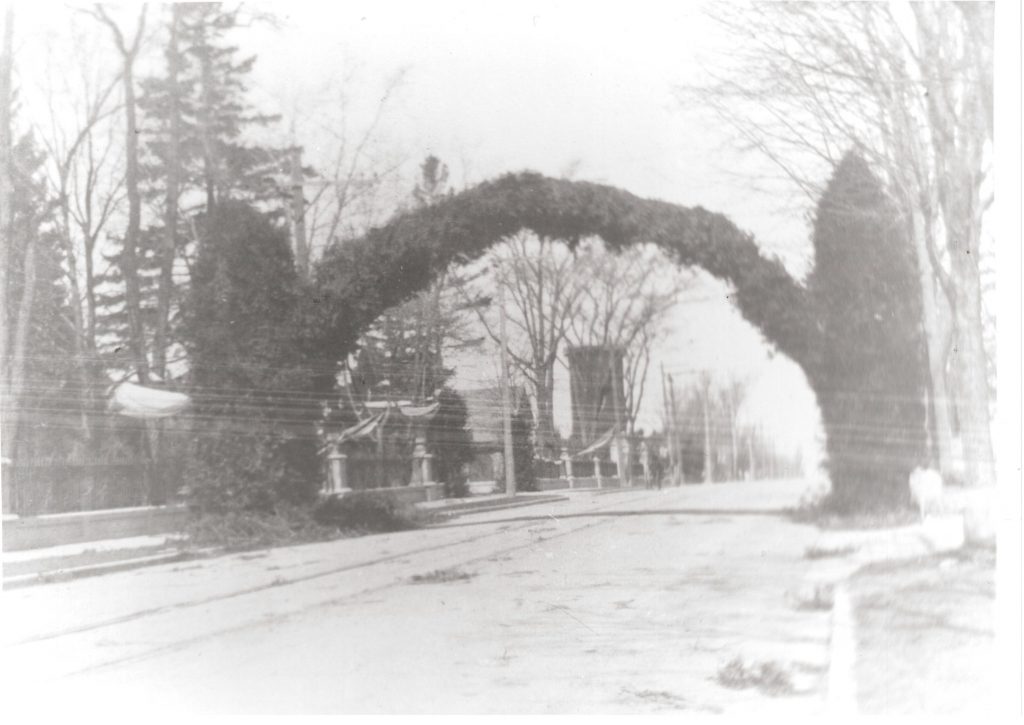 Cedar Arch over Simcoe Street North, 1919

A vine covered cedar arch is mounted over Simcoe Street North, directly in front of Parkwood estate.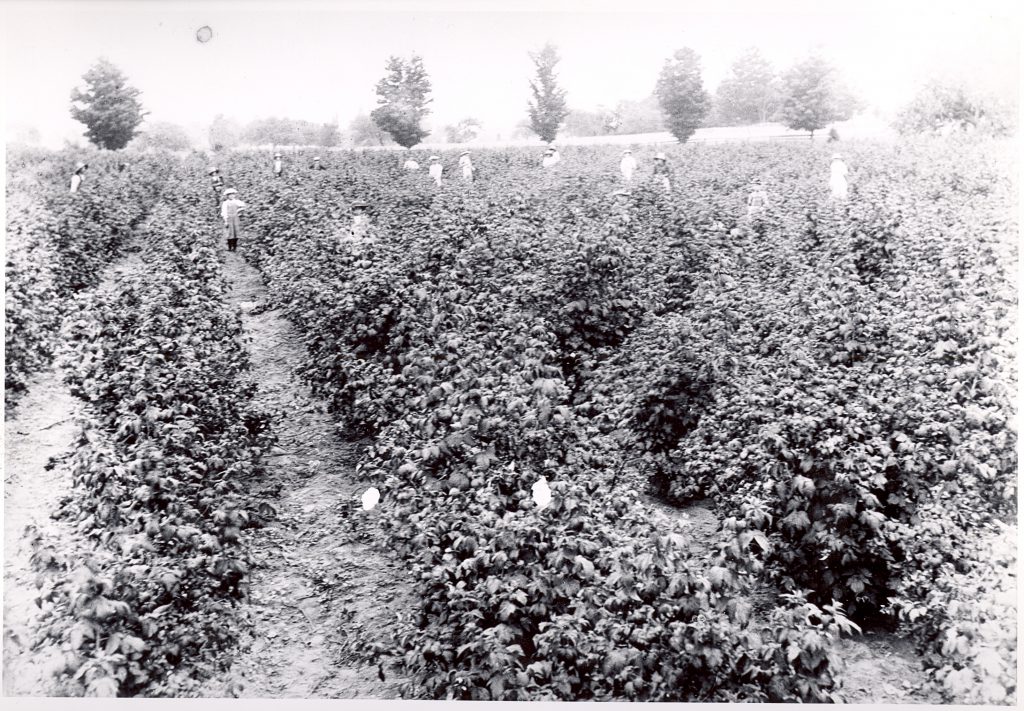 Ellesmere Hall, c. 1880

Ellesmere Hall, built c.1870, was the home of the T.N. Gibbs family. Mr. Gibbs sold the house in 1889 to the Church of England who turned it into a school for girls, Bishop Bethune College.
Ellesmere Hall, c. 1880

View of the walkway leading to the T.N. Gibbs family home. The path is lined with formal gardens. The property was located at Simcoe Street and Gibb Street.
Isabel McLaughlin in the Conservatory, Parkwood, Oshawa, 1948

Parkwood estate has long boasted one of the most beautiful gardens in Oshawa, and at one point had eleven greenhouses and a gardening staff of twenty-four. Isabel McLaughlin is shown sketching in her family's conservatory, which was built to entertain guests.
Adelaide Mowbray McLaughlin, c. 1950

Adelaide McLaughlin poses in front of a lilac tree in her Parkwood estate garden. She was an avid and knowledgeable gardener who loved to study flower varieties. She would often host charitable events at her Parkwood gardens, and oversaw all of the estate's gardens and greenhouses.