In case you missed it! "Oshawa in the Roaring Twenties", a virtual talk with Nicole Adams, Local History and Genealogy Librarian at the Oshawa Public Libraries.
When one thinks of the roaring twenties it's easy to conjure up an image of a lively Great Gatsby-like scene full of flappers, speakeasies and decadent parties. In reality, the decade reflected how the horrors and losses experienced during the First World War and the 1918 Pandemic transformed society. For some, the 1920s was a period of prosperity, political and social change, and economic growth, but it was also an age of high unemployment and racial injustice, when women had to fight for the right to be considered "persons" under the law. This exhibition brings together images from the collections of the Oshawa Museum, Oshawa Public Library and Thomas Bouckley Collection to explore what the roaring twenties meant to Oshawa.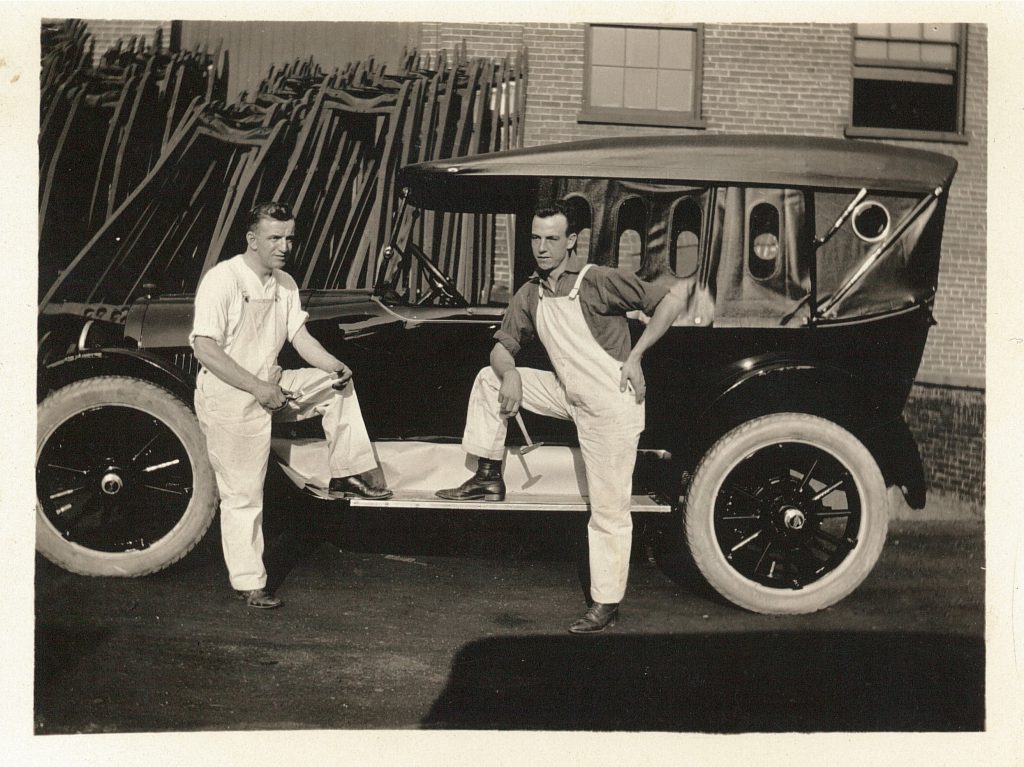 General Motors Workers, c. 1920s. Gift of Evelyn McGrath

Two General Motors employees, Bruce Anderson and Davey Stuart, pose in front of a GM vehicle. General Motors of Canada was officially formed in 1918 and ten years later, the Oshawa GM plant employed 8,100 individuals.

In the 1920s, a push for Canadian-built cars to be exported overseas resulted in a boom at GM. High British taxes on cars made in the United States did not extend to Canadian manufacturers, resulting in an increase in production and distribution.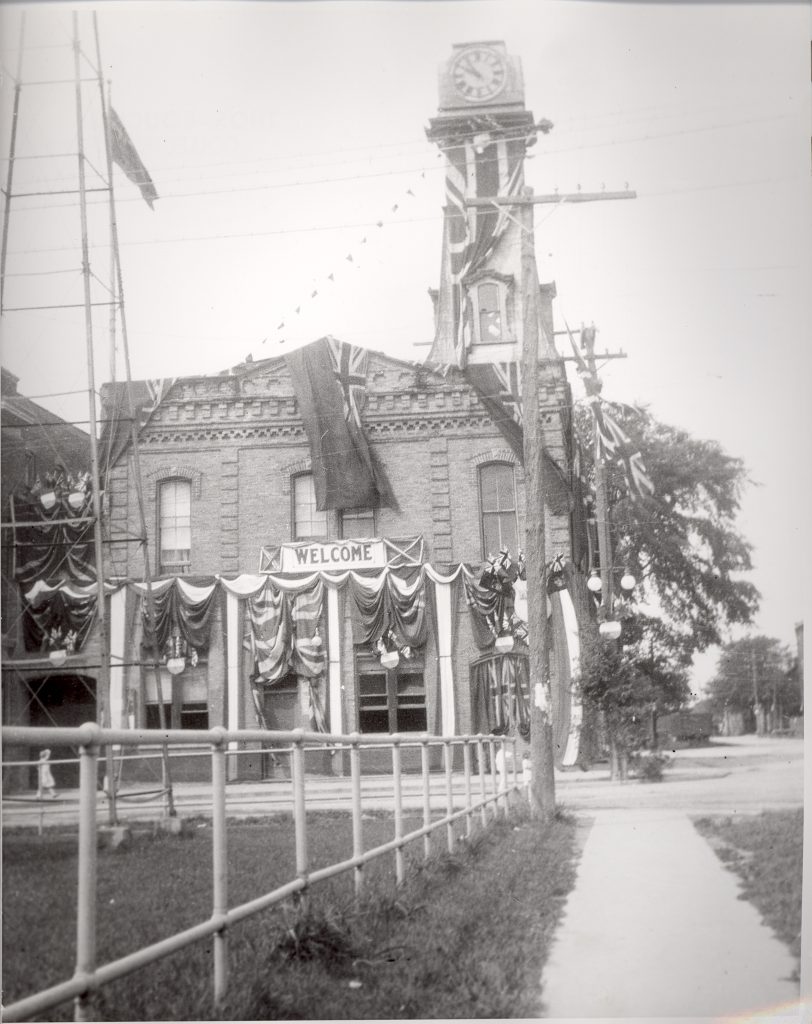 Town Hall, 1924

Located at Simcoe Street North and Richmond Street, Oshawa Town Hall is adorned with bunting and flags, bearing a sign saying "Welcome" for what is presumed to be the "Becoming a City" celebrations.

The growing popularity of the automotive industry resulted in an influx of Oshawa's population, growing from 4,000 in 1915 to 15,545 in 1924. This allowed Oshawa to seek incorporation and on March 8, 1924, Oshawa received "City" status.
Industry boomed in Oshawa, particularly the auto industry, which encouraged a growth in population and infrastructure. In the 1920s, the population grew from 4,000 to 16,000, allowing for the incorporation of Oshawa as a city on March 8, 1924. Lakeview Park opened in 1920 as a public park for residents to enjoy and Memorial Park saw the dedication of the Cenotaph in 1924, remembering those lost in WWI. Meanwhile, Oshawa's Sons of Temperance continued to advocate passionately for prohibition, but despite being popular during the war, prohibition was seen less favourably in the 1920s and ended in Ontario in 1927.
While this exhibition depicts the past, it also reflects on today, 100 years removed from the people and moments depicted. Will this next decade similarly be "roaring" as the world responds to the isolation, losses and economic hardships of the COVID-19 pandemic and ongoing social and political upheavals? Oshawa is already experiencing a rise in population through real estate development; is an industrial and economic boom to follow? Either way, it is clear that the 1920s was a period of growth and change in Oshawa, which contributed to shaping the city we know today.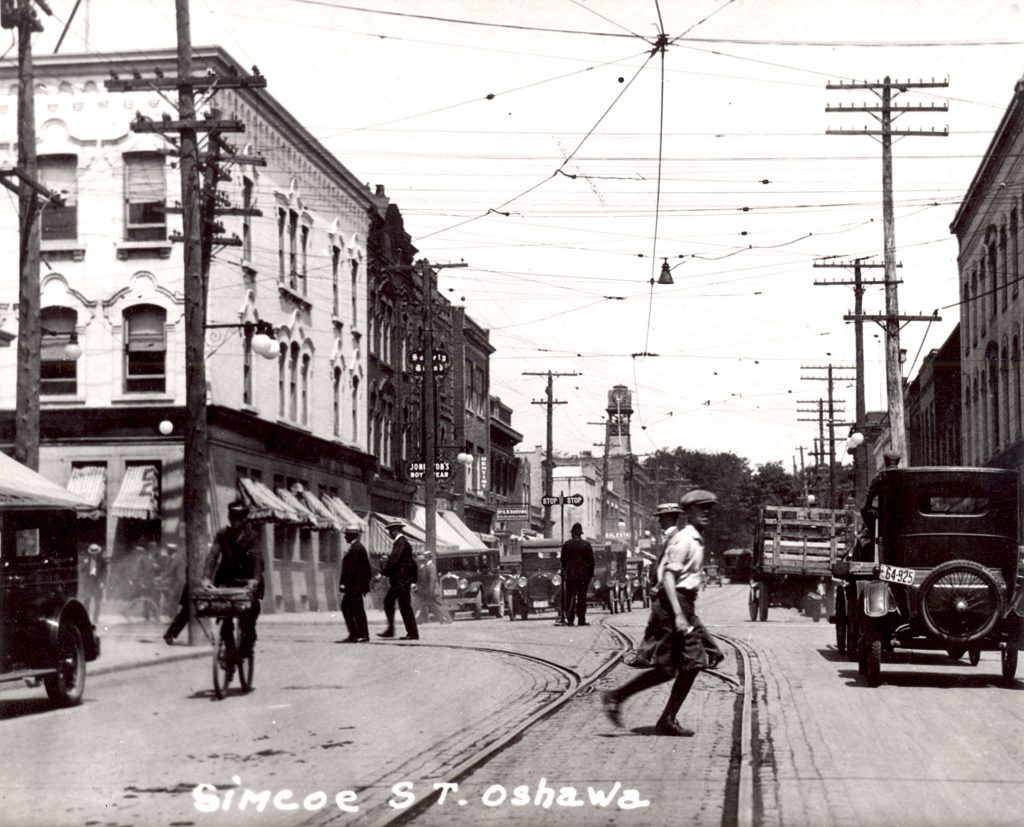 Traffic Signals at the Four Corners, 1920
Courtesy of the Oshawa Museum.
The Four Corners (Oshawa) bustles with activity as officer Ed Stauffer directs traffic with the manually operated traffic sign. It was not until 1924 that the first electric traffic lights were installed in Ontario.
Fire in Alger Block, 1927

A fire originated in the basement of the Biltmore Café on October 26, 1927. Despite firefighters fighting the blaze for several hours, damages on this city block were estimated at $90,000.
Harmony Bridge Damaged by Flood, 1929

The washout of the Harmony bridge led to the tragic death of two people after heavy April downpours. A car with four people was driving back to Peterborough after attending the Boy Scout Troops performance at Rotary Hall on Centre Street. Due to the heavy rain, they decided to turn back around and spend the night in Oshawa. Unfortunately, they did not know that the Harmony bridge had washed-out and they plunged into the rushing river below. Two of the occupants miraculously survived.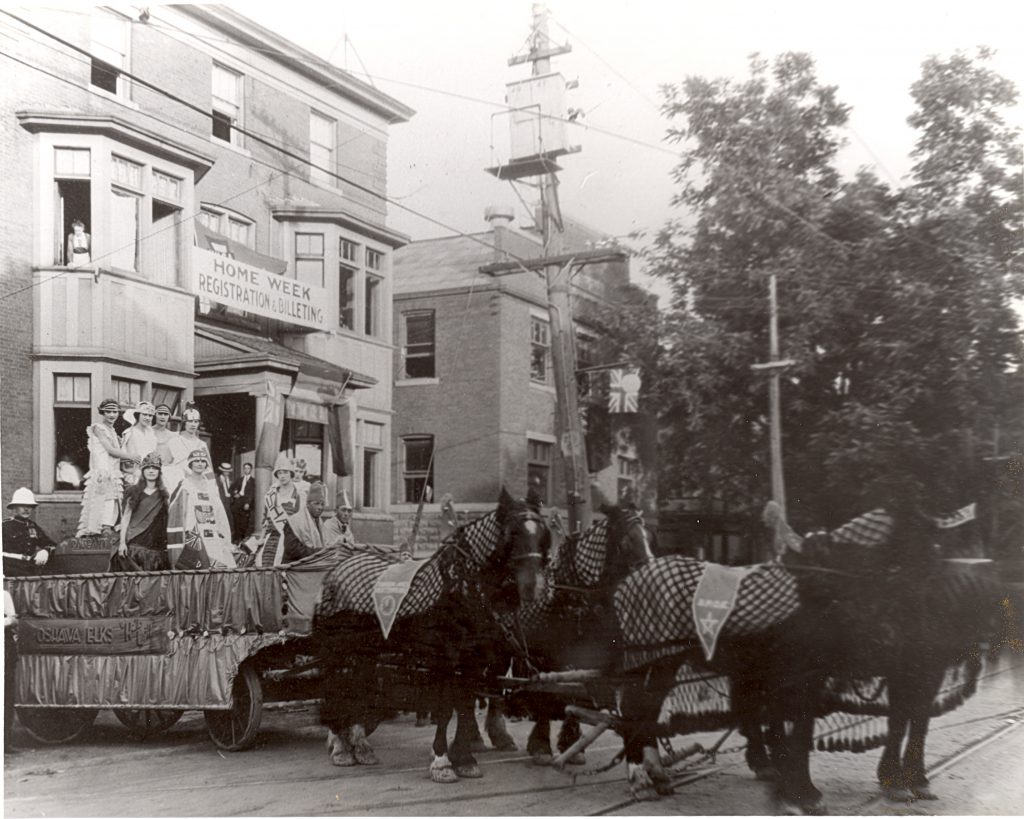 Old Home Week Parade, 1924

The Oshawa Elks float in the Old Home Week parade is parked in front of the Y.M.C.A (51 Simcoe Street South), where registration and billeting for the parade took place.

Old Home Week was a traditional celebration that can best be described as a town reunion. In 1924, the celebration was much larger to acknowledge that Oshawa officially became a city in March of that year.
From left to right, back row: Jennie Isabella Walker, Helen Fowler, Madeline (Brown) Ward and Marjorie (Sprenthall) Elder. From left to right, front row: Marjorie Mary I. Sproule, Lorraine (Francis) Jones, Jean Hall, and an unidentified figure.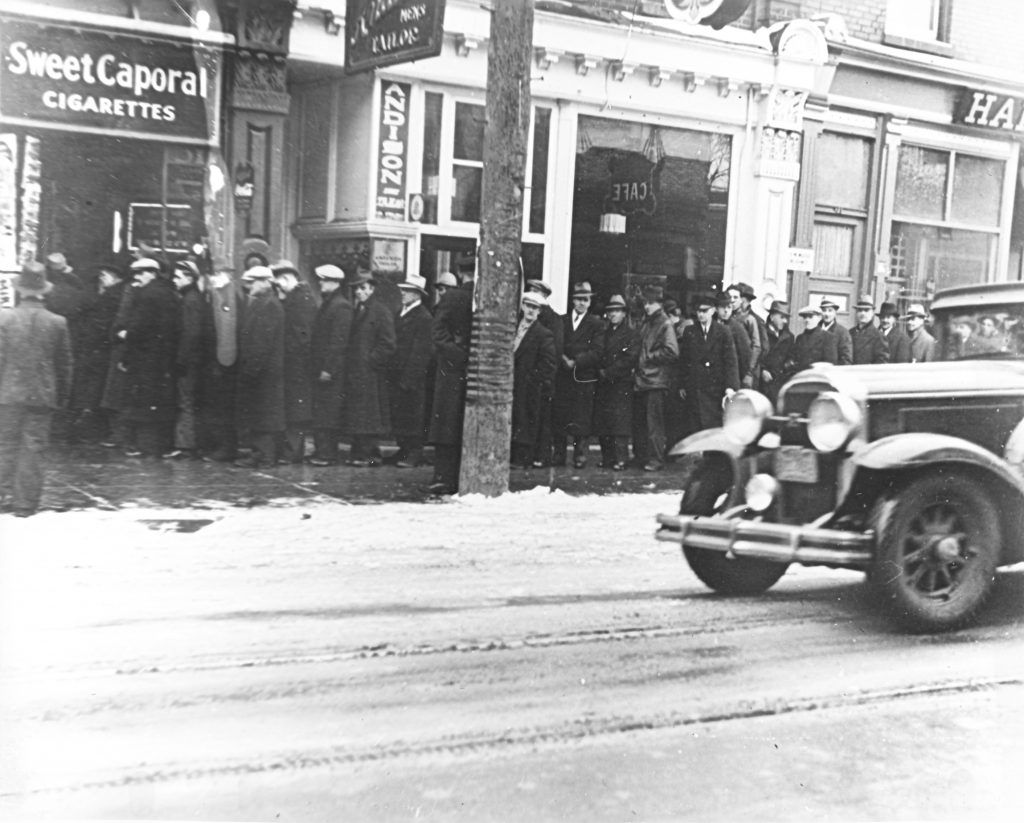 Mike's Place, 1924

A lineup of people waiting to buy hockey tickets stands in front of Mike's Place at 17 King Street West. During the play-offs, the lines of people often extended to Centre Street. Mike's Place, a convenience store today, has been a staple of downtown Oshawa since 1924.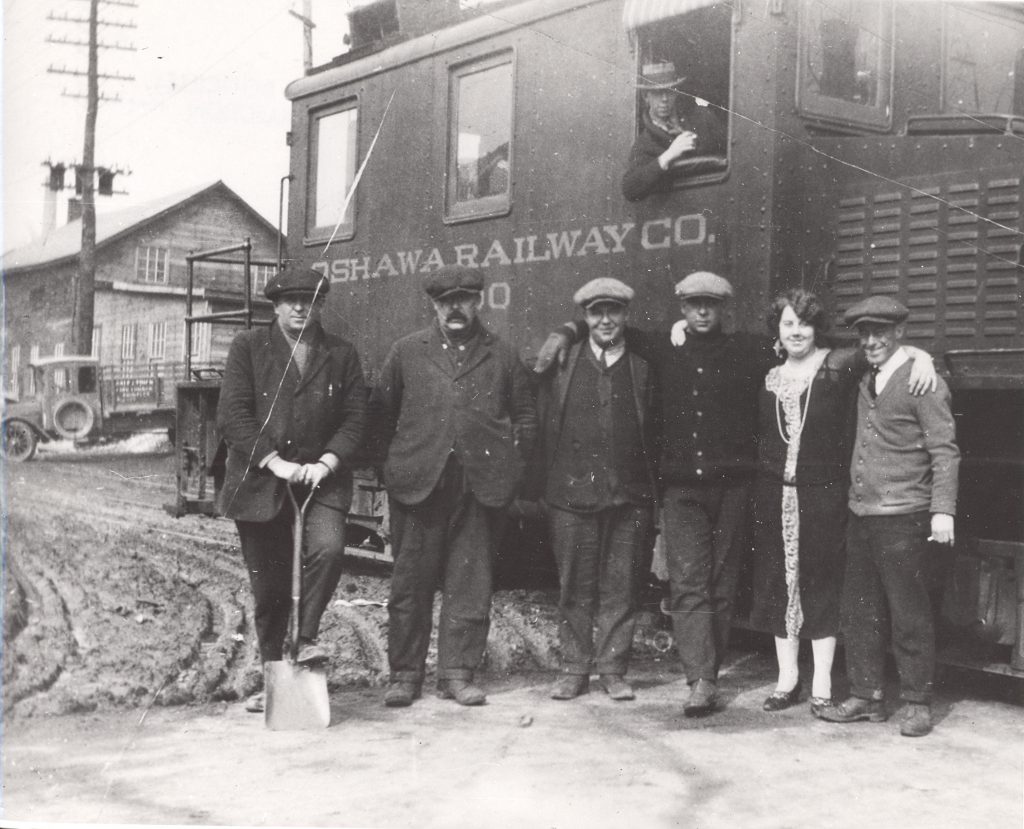 Railway Employees, 1920

A group of workers pose in front of the Shunter. The Oshawa Railway Co. was established in 1895 and operated until 1964. A Shunter is a British term for small railroad locomotives used for maneuvering railroad cars within a railyard.

From left to right: unidentified, unidentified, Mothersill, McKnight(?), Mildred Fair, George Finigan, with Joe Fair leaning out of the window of the cab.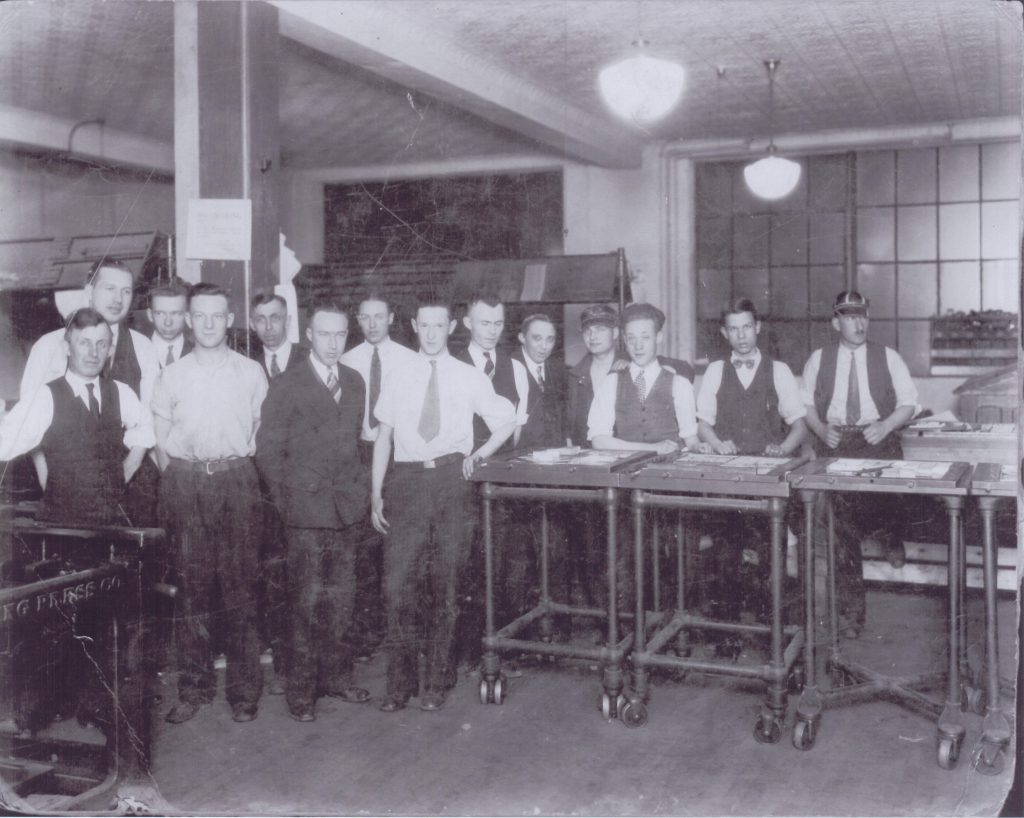 Oshawa Daily Times Night Staff, 1928

The night shift crew poses for a group portrait at the Oshawa Daily Times. On the left is Foreman Wm. Corbett. The Oshawa Daily Times was one of at least four newspapers circulating in Oshawa in the 1920s and was known at various times as the Oshawa Times or the Oshawa Times-Gazette before finally closing in 1994.
Regent Theatre, c. 1930
Courtesy of Oshawa Public Library.
Constructed on King Street in 1919, the Regent Theatre was designed by renowned Canadian theatre designer, J. McNee Jeffrey. The theatre was home to innovative features for its time, including an air conditioning system that consisted of fans blowing over blocks of ice to cool the large auditorium. This was replaced in the late 1920s by a system that pumped cold water through the building, which proved more effective.

The Regent Theatre was sold to the University of Ontario Institute of Technology in 2009 and has since undergone several reconstructive projects to breathe new life into the building while still maintaining the integrity of the theatre.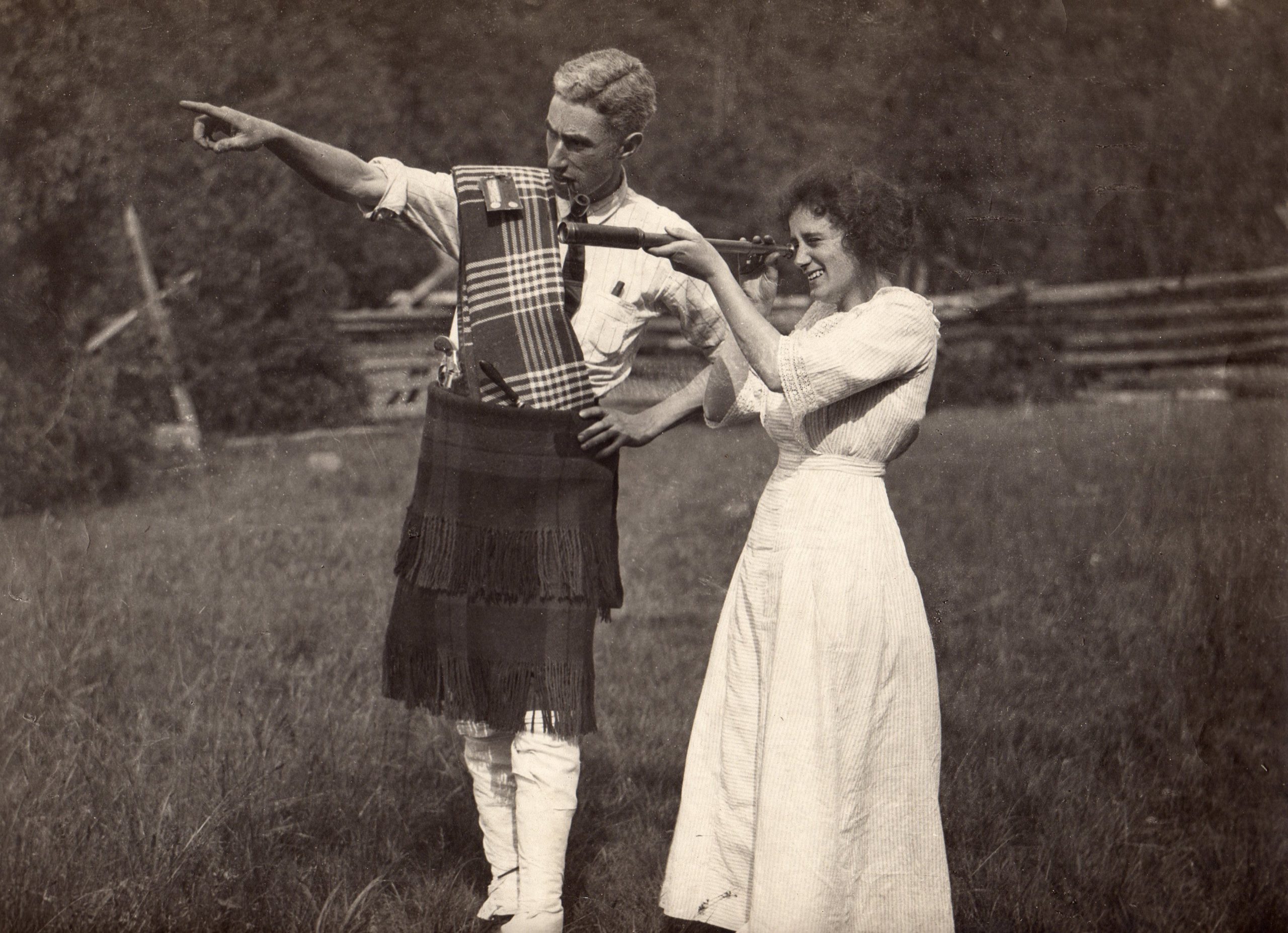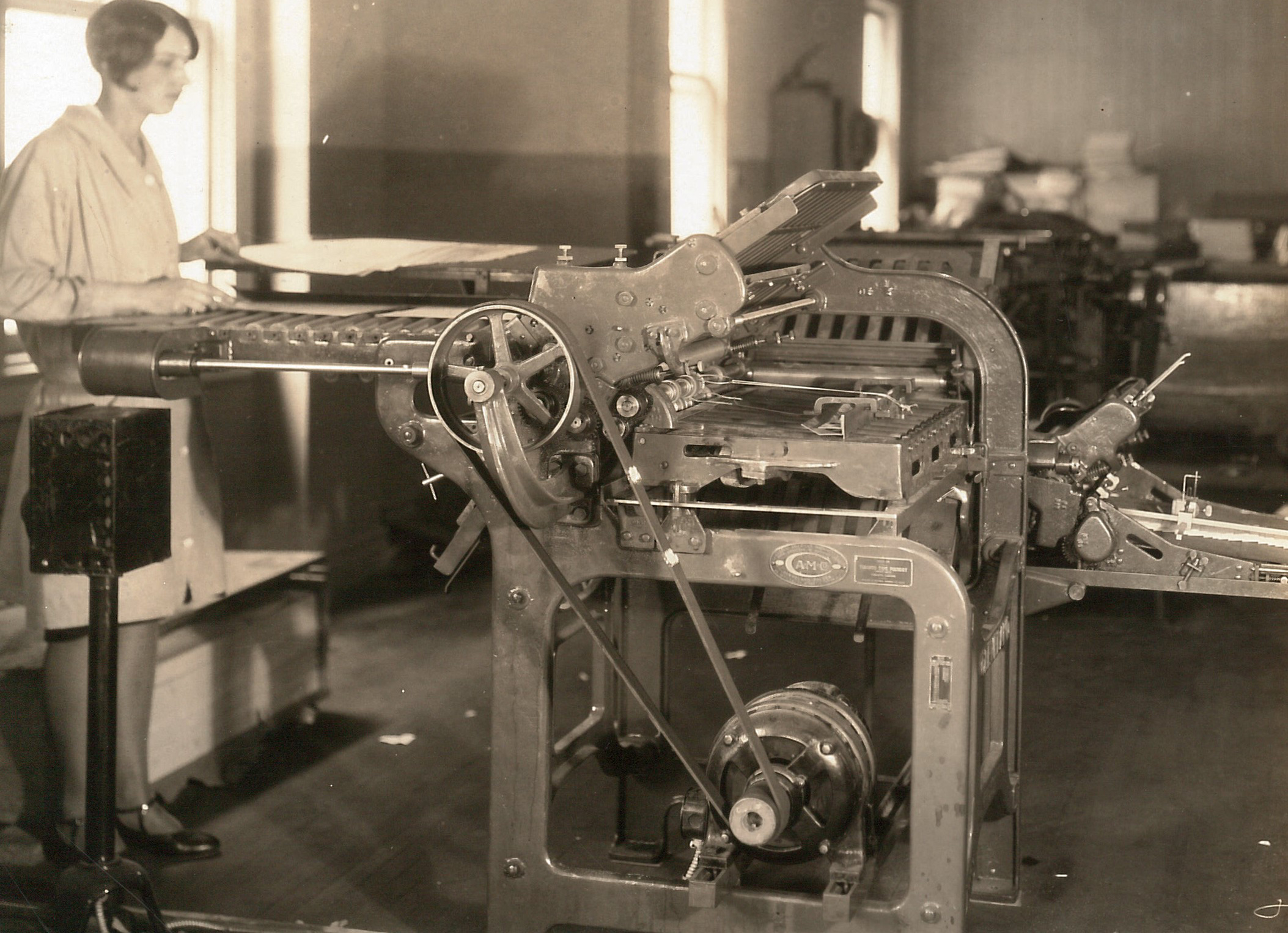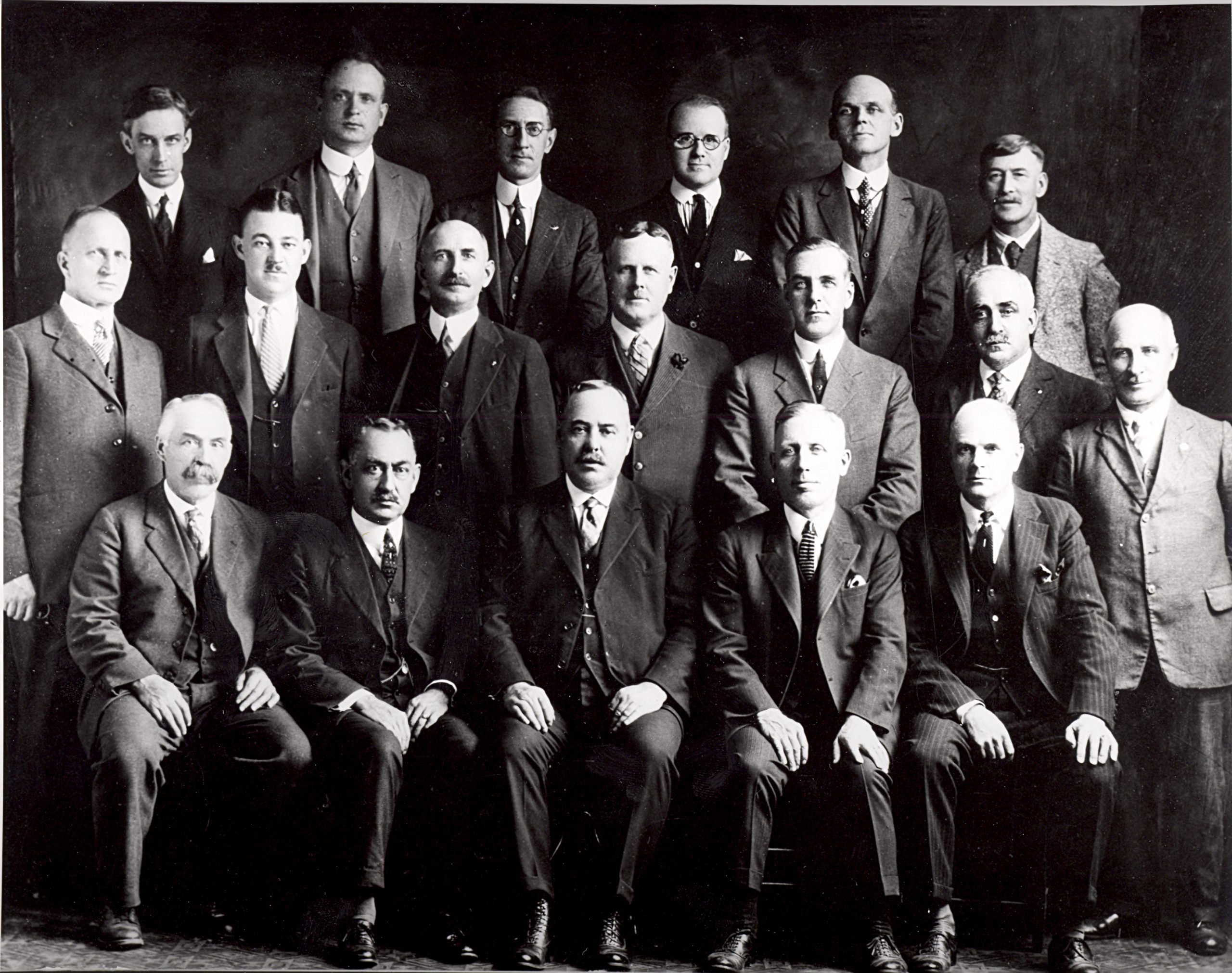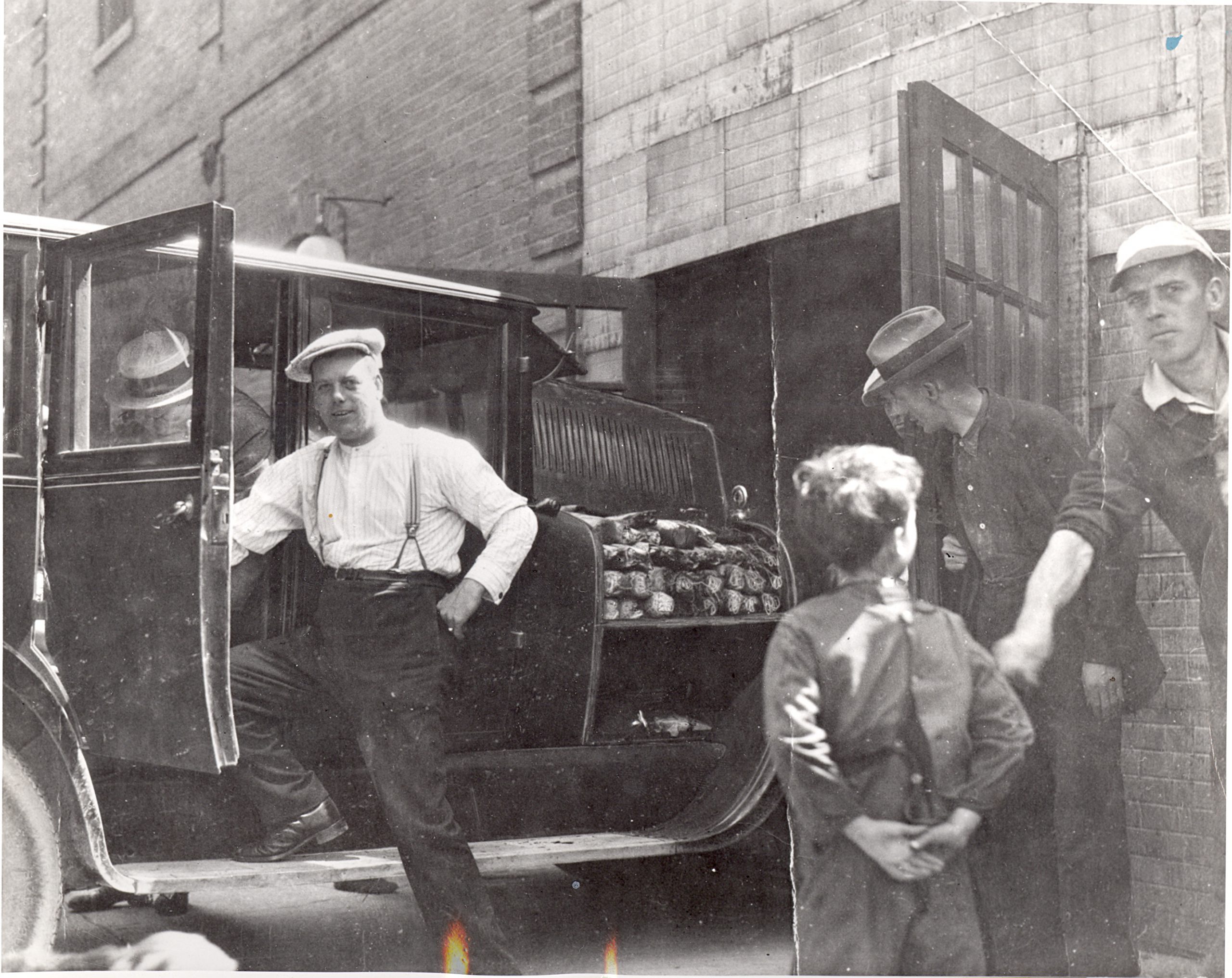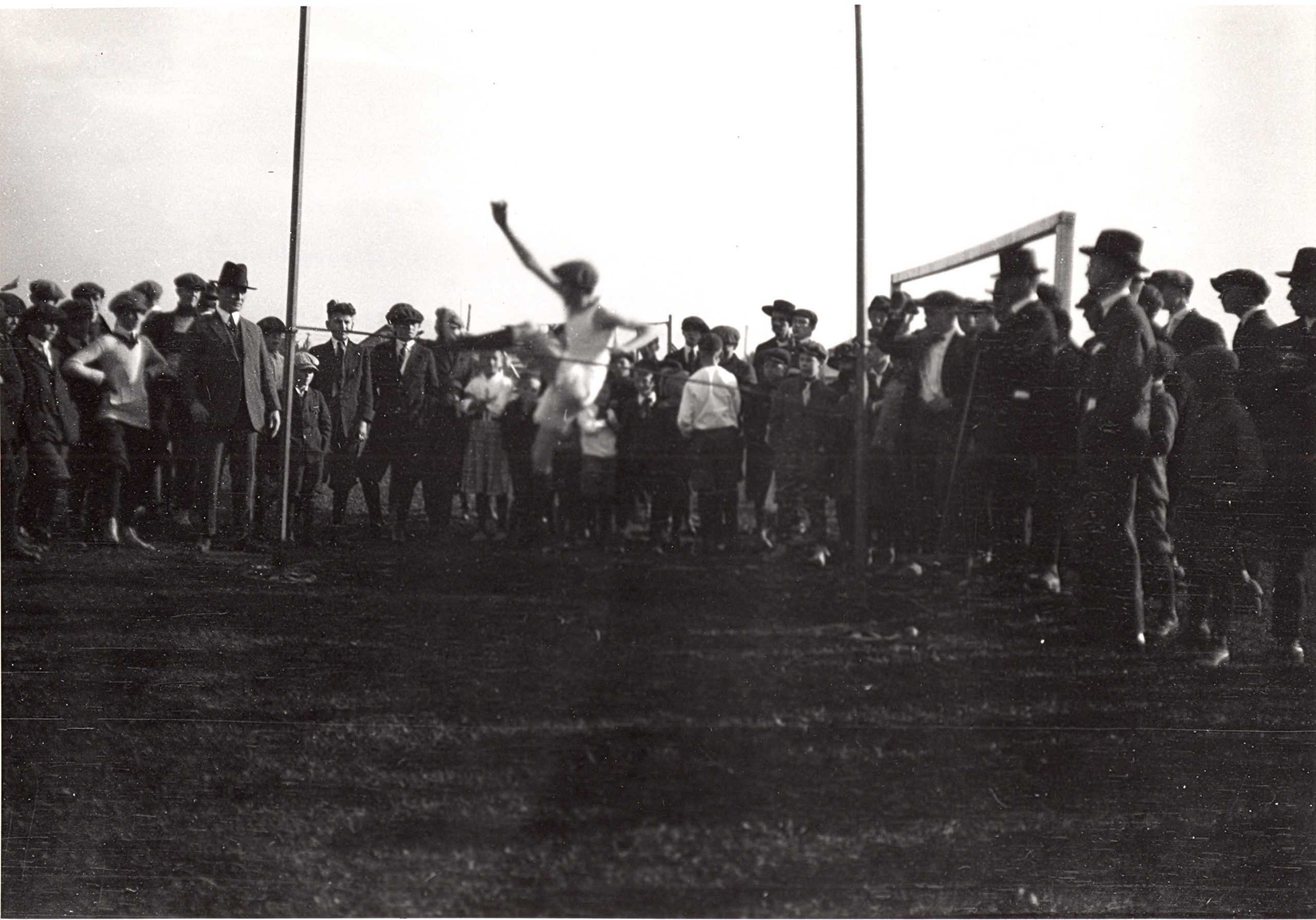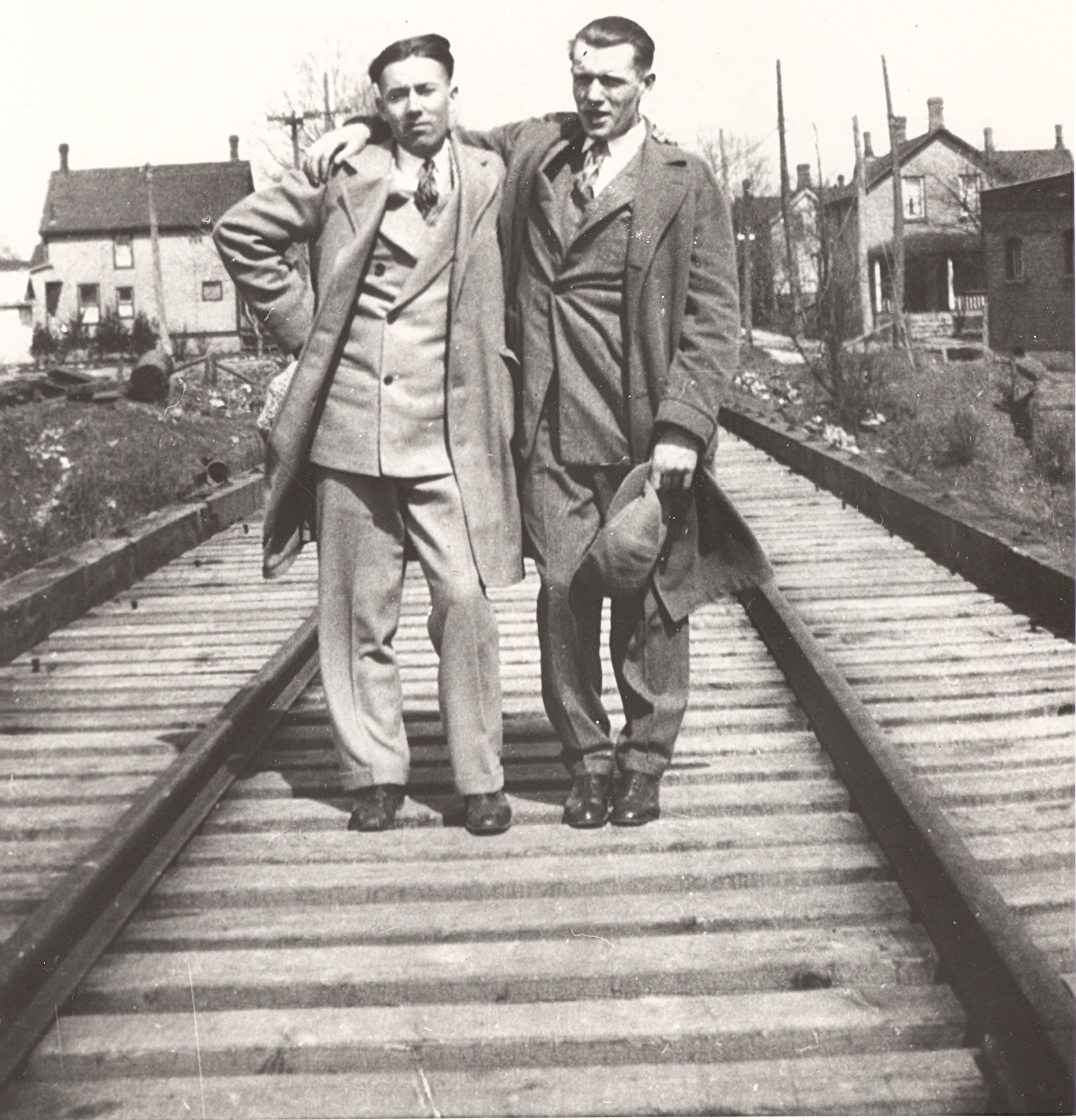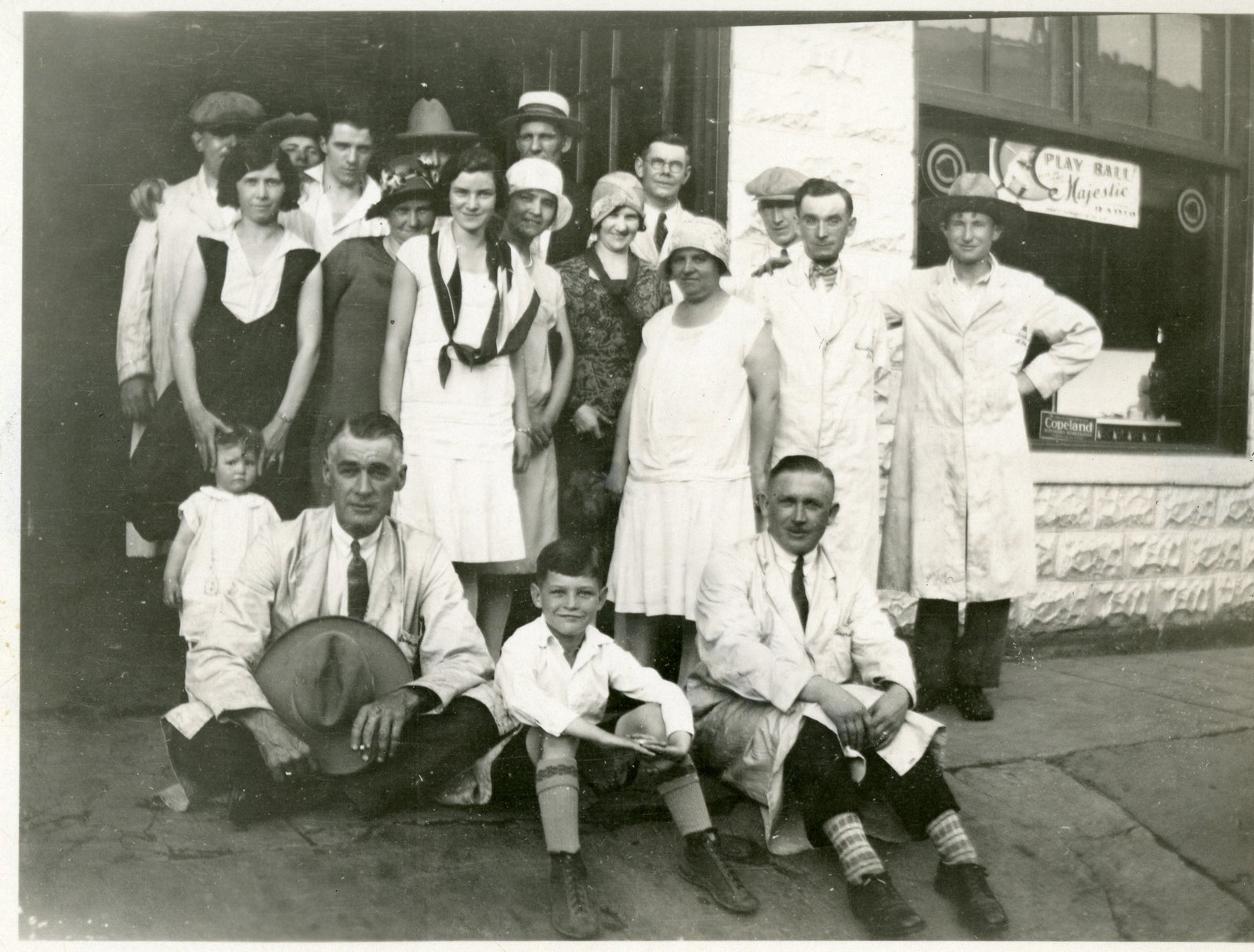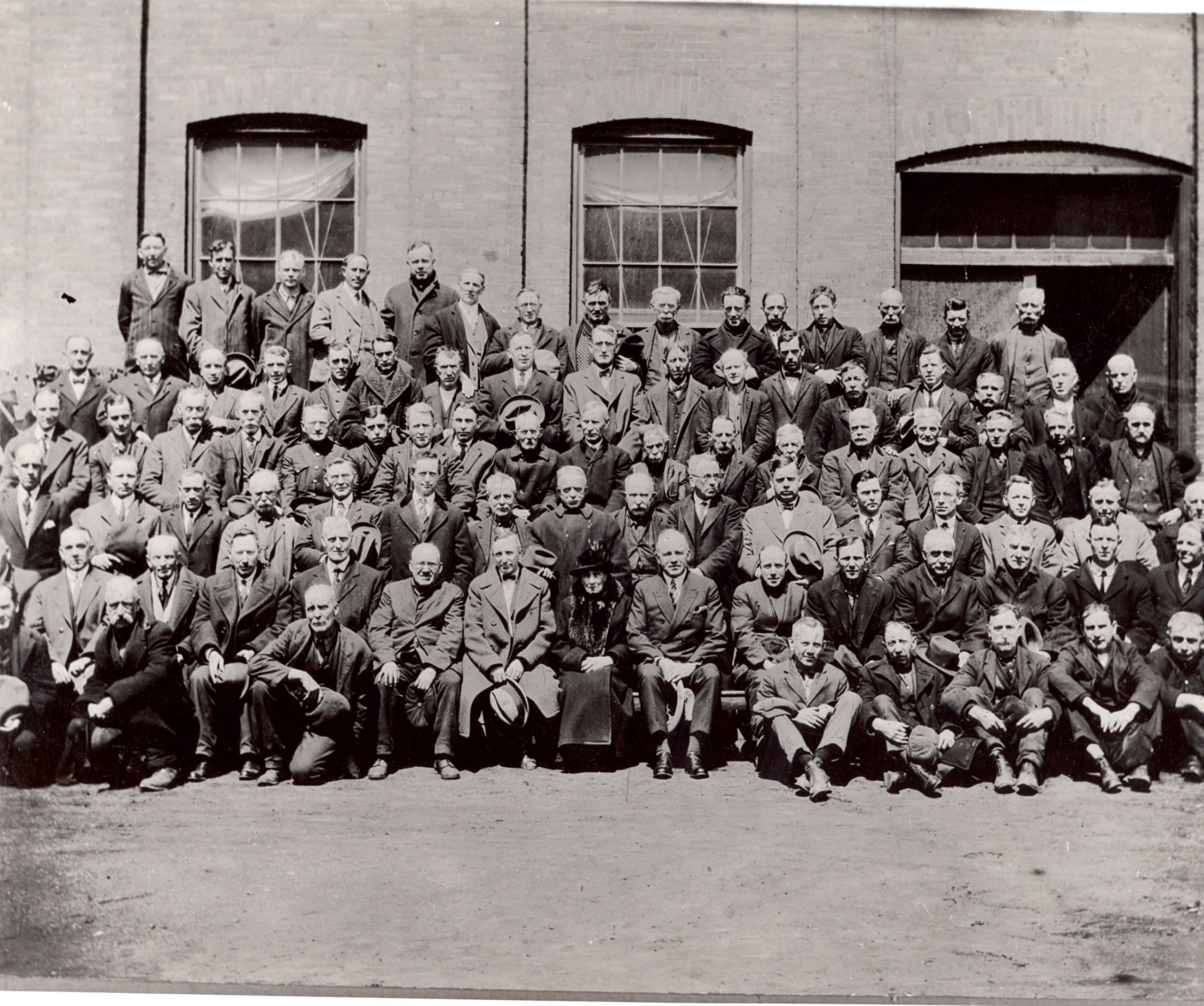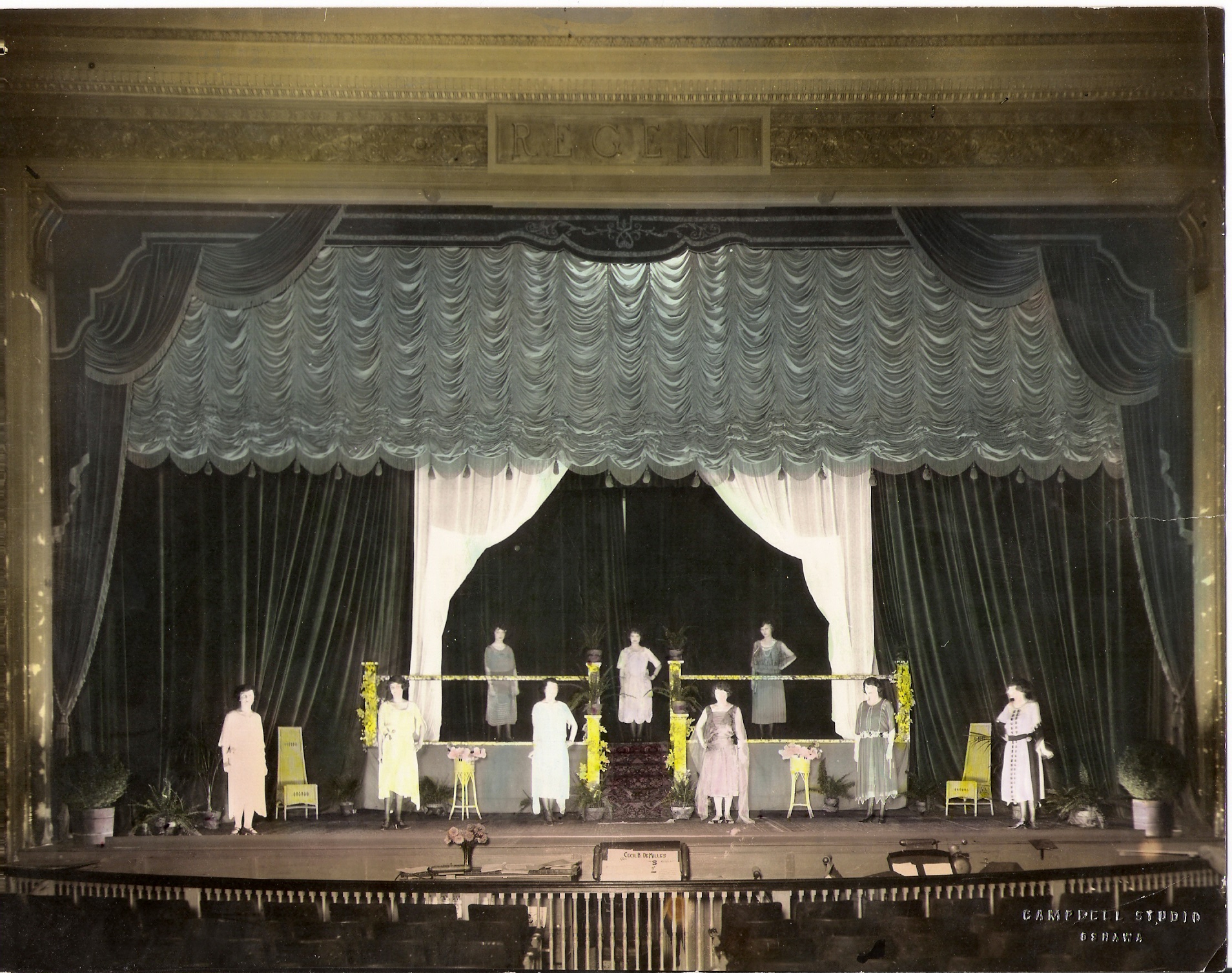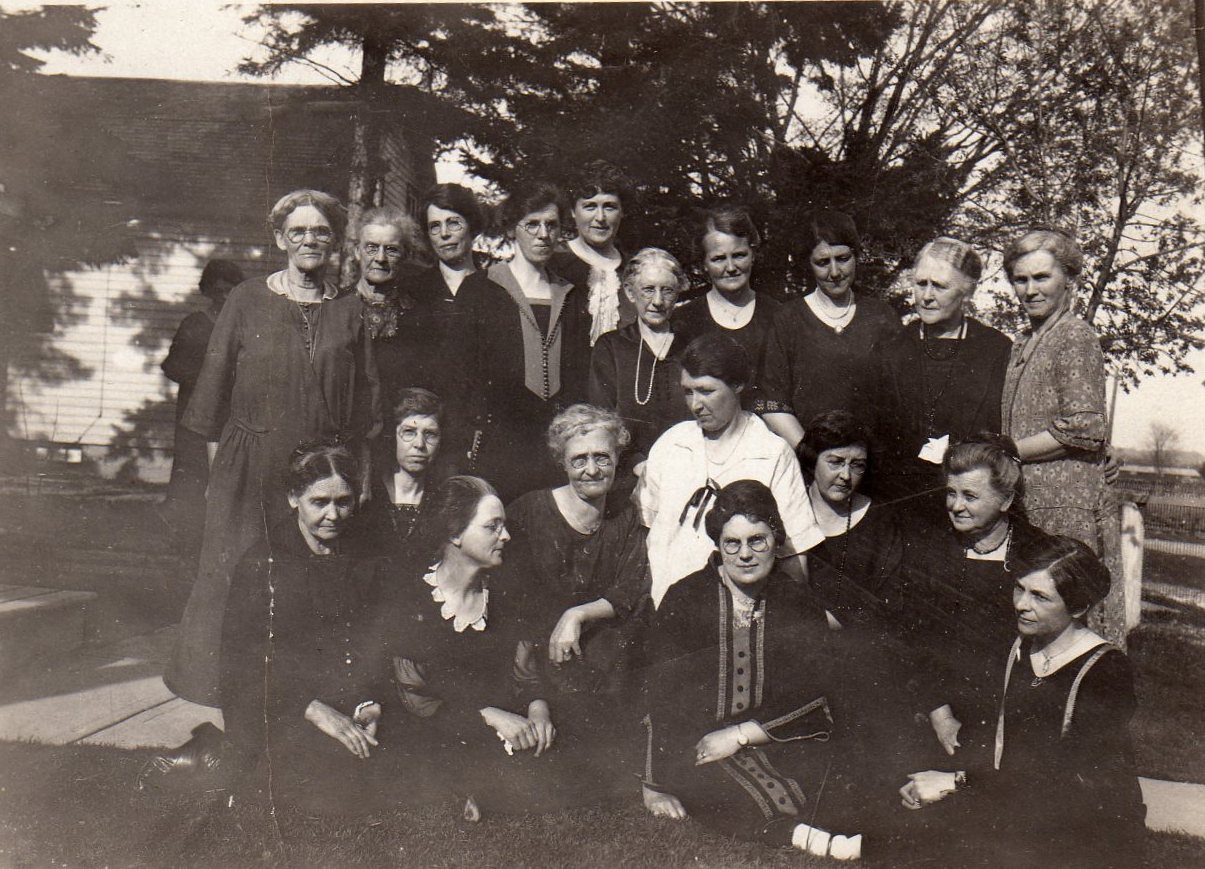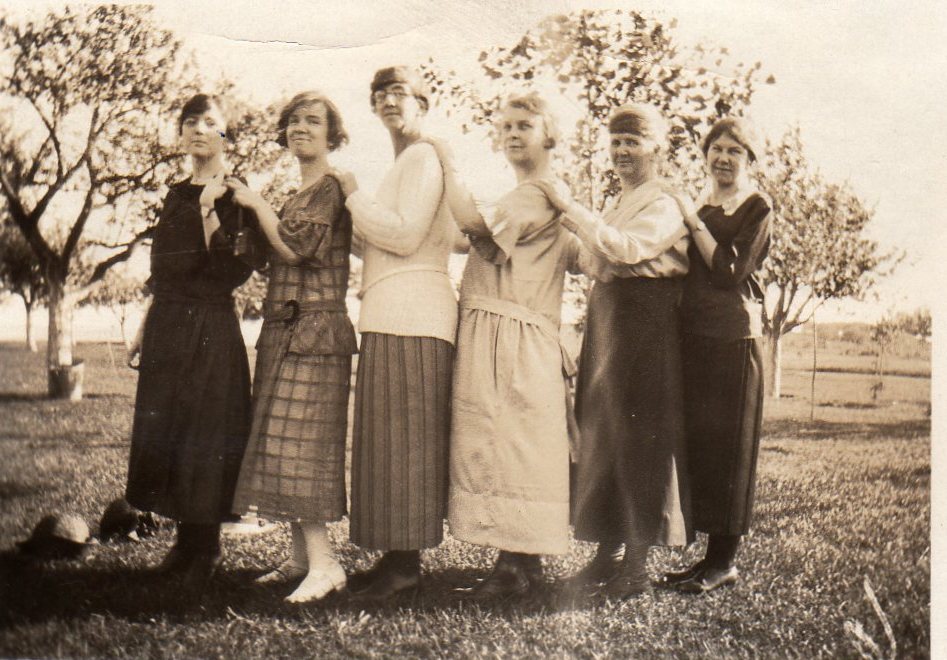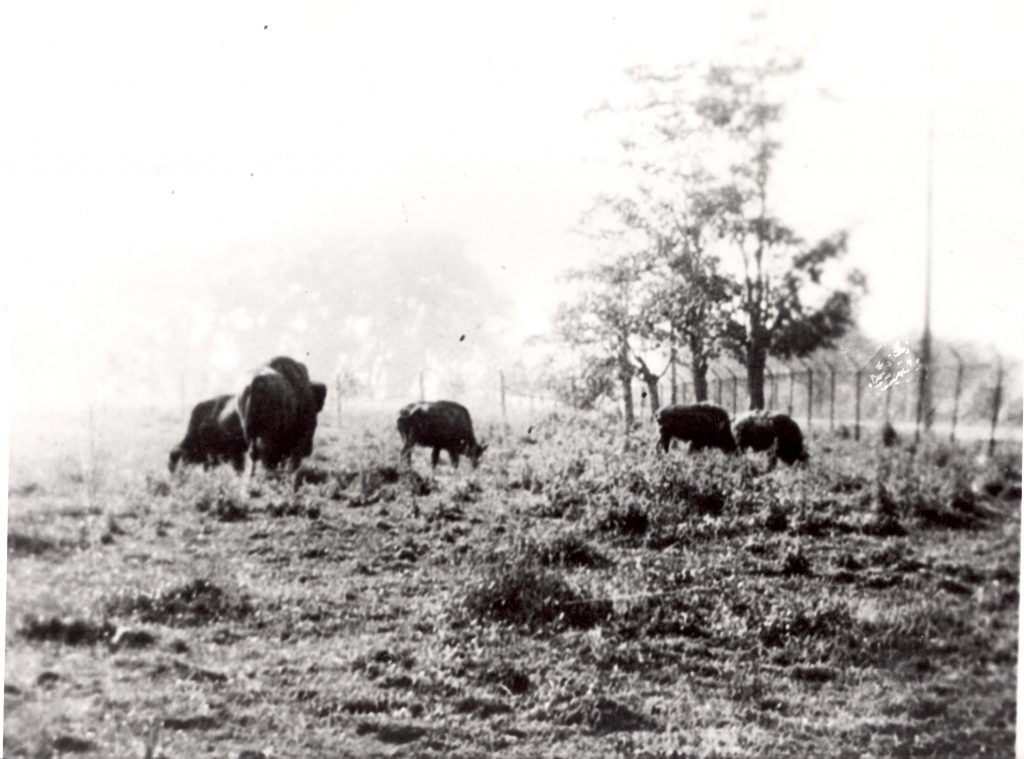 Buffalo at Lakeview Park, 1922
Courtesy of Oshawa Public Library.
In the early 1920s, an application was submitted to the Minister of the Interior to request the loan of three buffalo for Lakeview Park. George W. McLaughlin first proposed a zoo for Lakeview Park and agreed to cover all expenses related to the relocation and transportation of the buffalo. The buffalo ended up coming from Buffalo Park in Wainwright, Alberta.

The buffalo remained at Lakeview Park until August 20, 1931, when they were relocated to Riverdale Zoo in Toronto due to residents' complaints about their appearance and smell. When they were being moved, one briefly escaped its crate and galloped up Simcoe Street, scattering the crowd and nearly injuring a bystander.
This exhibition is part of a Cultural Tourism Initiative presented in partnership with the Pickering Museum Village, the Canadian Automotive Museum, Parkwood Estates, and Central Counties Tourism. To see more War on Whiskey programming visit the Temperance and Temptation website!