True Currency is an exhibition about indebtedness and exchange. Bringing together works that explore alternative economies, reciprocity, indebtedness, labour, and wellbeing, this show looks at how value is produced through the circulation of goods and ideas. Within our current market economy, competition and accumulation are prioritized above all else, but what is lost through these ways of relating? In a time of precarity, generalized anxiety, and ecological collapse, how do we sustain ourselves? How do we understand the discrepancies between those who profit from extraction and those who feel its effects?
In his classic book, The Gift, Lewis Hyde proposes that all artwork is necessarily a gift because the artist offers it freely to their audience. When gifts circulate, their commerce leaves a series of interconnected relationships in its wake, and a kind of decentralized cohesiveness emerges. Taking up exchange as both subject matter and form, the artworks here have been produced through various forms of collaboration. In looking at informal seed exchanges, mutual aid networks, gig economies, and solidarity groups, the works offer strategies for cooperation and resilience, seeing reciprocity as a marker or survival, capacity and flourishing.
Christina Battle is an artist based in amiskwacîwâskahikan, (also known as Edmonton, Alberta), within the Aspen Parkland: the transition zone where prairie and forest meet. Her practice focuses on thinking deeply about the concept of disaster: its complexity, and the intricacies that are entwined within it. Much of this work extends from her recent PhD dissertation (2020) which looked closer to community responses to disaster: the ways in which they take shape, and especially to how online models might help to frame and strengthen such response. She is currently the Online Editor for BlackFlash magazine, dedicated to presenting critical opinions, urgent issues and divergent artistic practices from across the prairies, Canada, and beyond. She collaborates with Serena Lee as SHATTERED MOON ALLIANCE and has exhibited internationally in festivals and galleries as both artist and curator, most recently at: The MacKenzie Art Gallery (Regina), The Art Gallery of Southwestern Manitoba (Brandon), The Boulder Museum of Contemporary Art (Colorado), Latitude 53 (Edmonton), The John & Maggie Mitchell Gallery (Edmonton), Harbourfront Centre (Toronto), Capture Photography Festival (Vancouver); Forum Expanded at the Berlinale (Berlin), Blackwood Gallery (Mississauga), Trinity Square Video (Toronto), and Untitled Art Society (Calgary).
Helen Cho is a Pickering-based artist whose practice spans sculpture, video, performance, drawing, text and photography, and draws from translations of language, tradition and the sites and materials of everyday habits. Her artistic practice contemplates the ever-shifting emotional landscapes of migration, language, memory, and representation. It considers objects, sites, transactions, and mass-produced materiality of everyday life as contained within human desire and the attendant struggle for connection. Cho holds an MA in Fine Art from Goldsmiths College, University of London (UK) and has exhibited internationally. Her artworks have been exhibited at Kunstlerhaus Bethanien, Berlin; Kunstverein Wolfsberg, Wolfsberg; Kumho Museum, Seoul; National Musuem of Contemporary Arts, South Korea; SFU Galleries, Vancouver; Articule, Monteral; Galerie Martin van Zomeren, Amsterdam; and Galerie Magnus Müller, Berlin, among others. She has participated in artists-in-residences at Ssamziespace, Seoul; the Banff Centre, Banff; and European Ceramic Work Centre, Oisterwijk, the Netherlands.
Alvin Luong (梁超洪) creates artworks based on stories of human migration, land, and dialogues from the diasporic working class communities that he lives and works with. These stories are combined with biography to produce artworks that reflect upon issues of historical development, political economy, and social reproduction; and how these issues intimately affect the lives of people. In 2021, the artist was Artist-In-Residence at the Art Gallery of Ontario (Toronto), screened work at The Polygon Gallery in a co-presentation with Centre A (Vancouver), and presented solo exhibitions at Modern Fuel Artist-Run-Centre (Kingston, CA) and The New Gallery (Calgary); and produced and co-wrote a book published by The New Gallery Press (Calgary).
Sofia Mesa (b. 1995 Bogota, Colombia) is a multidisciplinary artist working with the cyanotype process, photography, drawing, sculpture and furniture design. Her cyanotype work began as a way to tangibly document/photograph/imprint bodies due to the weight of the body being an integral facet to the creation of the image. She is interested in proof of life, conserving it, and material exploration. She often works with various collaborators, the sun and the water being two principal ones, non-artists and community members. She has exhibited in various museums, galleries and artist run spaces in Toronto and New York City such as The Art Gallery of Ontario; Gallery TPW; Galley 44; The KUBE (NYC) and was commissioned by Contact Photography Festival in 2017 to create a public installation "Guardians" at Allan Gardens: a collection of artworks that displayed the necessity and reality of community. Sofia lives and works between New York City and Medellin.
Dana Prieto (born in 1984, Argentina; lives in Toronto, Canada) is an artist and educator with a site-responsive art practice that manifests in installation, performance, writing and diverse collaborations. Her work examines our intimate and collective entanglements with colonial institutions and power structures, calling for careful attention to ways of relating, thinking, making and consuming in the Anthropocene. Dana holds a Master of Visual Studies from the University of Toronto, and her work has been presented in national and international galleries, public spaces and informal cultural venues.
Cassie Thornton an artist and activist who makes a "safe space" for the unknown, for disobedience, and for unanticipated collectivity. She uses social practices including institutional critique, insurgent architecture, and "healing modalities" like hypnosis and yoga to find soft spots in the hard surfaces of capitalist life. Cassie has invented a grassroots alternative credit reporting service for the survivors of gentrification, has hypnotized hedge fund managers, has finger-painted with the grime found inside banks, has donated cursed paintings to profiteering bankers, and has taught feminist economics to yogis (and vice versa). Her new book, The Hologram: Feminist, Peer-to-Peer Health for a Post-Pandemic Future, is available from Pluto Press. She is currently the co-director of the Re-Imagining Value Action Lab in Thunder Bay, an art and social centre at Lakehead University in Ontario, Canada.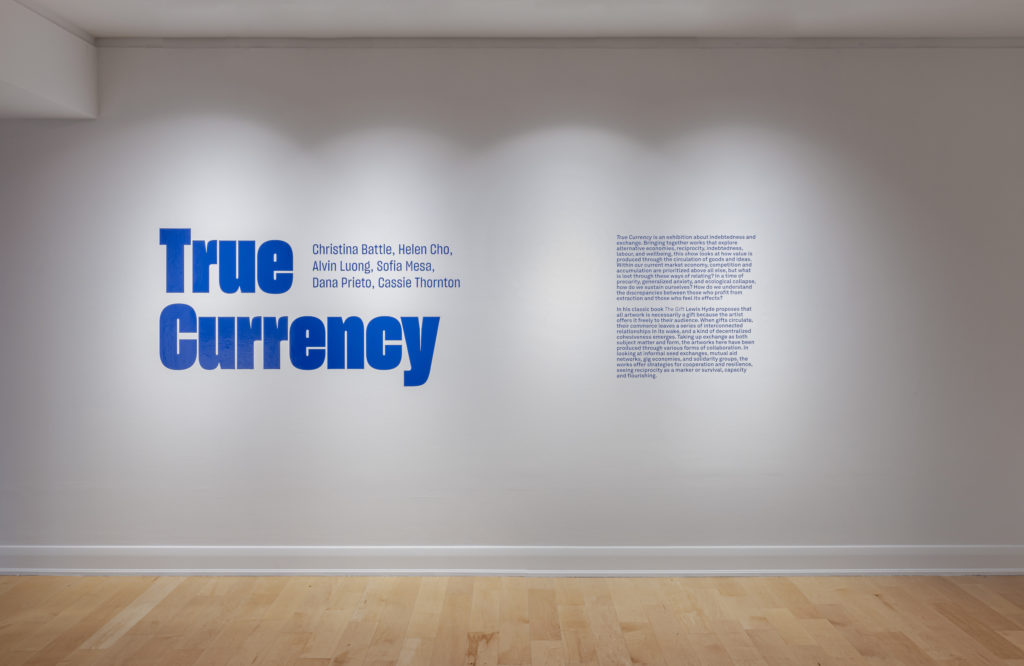 Installation of True Currency at the Robert McLaughlin Gallery, 2022. Photos by Toni Hafkenscheid.