What is "Layers of Love"?
Layers of Love is an interactive collage-making website that was created by Khadija Aziz and Laura Kay Keeling in early 2021. Thinking about care and collaboration, Khadija and Laura created the website to engage the public in their art making and to invite artists and audiences alike to experience the power of working together with creativity and generosity. In partnership with the RMG, Layers of Love is now home to a bank of images that were created by Khadija and Laura, as well as three new artist contributors: kaya joan, Nicole Krstin, and Yahn Nemirovsky. You are invited to explore the art of collage making and watch as a gallery of community-made collages grows on this webpage and on Layers of Love.
Being in Community
Each layer in Layers of Love x RMG is an excerpt from existing bodies of work by the participating artists, generously offered as inspiration for an unlimited number of new creations. The process of cutting fragments from existing artworks has allowed each artist to lend specific stories, textures, and ideas to other makers, including you! What happens when you combine these layers in different compositions? How do the meanings shift, intertwine, and generate new visual relationships?
The artists invite you to be playful with your own collage. An openness to change and discovery is at the heart of all five of their artistic practices, as is a commitment to community, which itself is the backbone of the Layers of Love project. Specifically, transformation, as an essential process of being in community, is paralleled by the themes and iterative processes that went into making the original artworks used to create the digital collage layers. While Khadija and Nicole offer layers that reflect their interests, as creators, in exchange and renewal, Laura, Yahn, and kaya add tender and deeply personal layers that invite reflections on grief, relationships, and individual growth and responsibility. Collectively, the artists' layers think through questions of stewardship, right relationship, and self-care. You are invited to participate in and build this creative community by making your own collage, reflecting on what the artists have offered, and inserting your own story into these Layers of Love.
Learn more about the artists and their layers:
kaya joan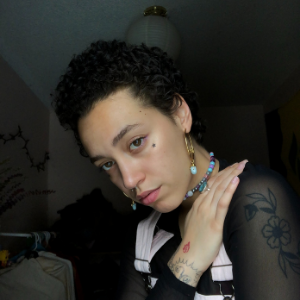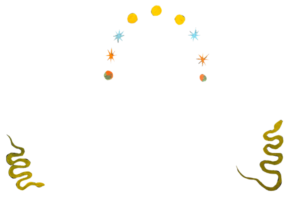 Artist Statement: I chose to divide my piece full circle (gouache and ink on wood, 2020) into layers for this project. Each layer relates to different realms of being: the self/earth, the underworld, the skyworld, and the spirit world. full circle is an exploration of the interconnectedness of creation and how the four realms of being all exist in relationship to one another. These realms are infinite, and I am constantly investigating my responsibilities to each one, and discovering the stories that weave them together. I am not interested in repeating cycles of harm that rupture connections to all the joy my ancestors have passed on to me. These layers represent my journey to be in right relationship to all of creation, as it is my responsibility to be a good ancestor.
kaya joan is a multi-disciplinary Afro-Indigenous artist living in T'karonto, Dish with One Spoon treaty territory. kaya's work is centred in healing practices, transcending linear notions of time, blood memory and relationship to place. Rooting themself in frameworks of Black and Indigenous futuritist pedagogy, kaya engages with methods of making that operate as ancestral tools to unpack and transform buried truths, opening portals 7 generations into the past and future. kaya has also been working as a community arts facilitator for the past 6 years, and are a member of the Milkweed Collective. kaya graduated from OCADU's Indigenous Visual Art's program in 2020, and was the recipient of the INVC medal, Nora E. Vaughan Award and Akin Studio's Career Launcher grant.
Khadija Aziz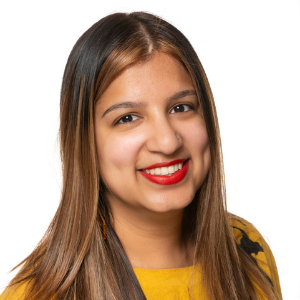 Artist Statement: My practice, and the layers I've created for this project, investigate the material nature of textiles through processes of making and exchange between analogue and digital techniques. To create my digital textile artworks, I first print digital images, hand-embroider, and bead on fabrics, and then drag them across a flatbed scanner. The scanner introduces pixelated colours and shapes into the rendering of the woven fabric, which I then further edit using digital software. I print the resulting, edited images back onto new fabrics, adding further embellishments with thread and beads before beginning the scanning process again. This cycle of intentional craft-based play with digital technologies results in a series of surface patterns composed of pixels, physical material, and memories of the physical material. Can you tell which beads are stitched and which ones are printed as digital images on the fabric?
Khadija Aziz (she/her) investigates image-making with textiles using manipulation, experimentation, and the ever-shifting nature of cloth. Her process-based practice bridges the gaps between textile-making techniques and digital technologies to generate unexpected outcomes through translation, chance, and distortion. She is currently pursuing an MFA at Concordia University's Fibre & Material Practices program. In recognition of her creative practice, she has most recently received the Shanks Memorial Award in Textiles from Craft Ontario and the Creative Promise Award from Surface Design Association in 2020.
Laura Kay Keeling
Artist Statement: To create my layers, I returned to my piece When It Gets Dark, I Have Shallow Breath, which is an artwork I made to unpack and explore my personal experiences with grief and healing. I have been learning to sit with and honour my experiences, however good or bad, and to approach them all as welcome visitors, as described by Rumi in his poem, The Guest House. I consider all of my collage works to be living and changeable; I can come back anytime and add or remove bits and pieces. Appropriately, this piece has unfolded and developed over several iterations. It began as a physical installation, has been exhibited digitally, and most recently, was recreated as an animation for a virtual exhibition titled The Advantages of Tender Loving Care. It was natural for me to explore the piece in a new way for Layers of Love. In this collaborative project, my layers invite you to play, create, and explore, all the while seeing how each of the layers involved speak to one another and create new narratives.
Laura Kay Keeling (she/her/they) is a visual artist whose work encompasses analog photography, video, collage and installation-based projects. Exploring and unpacking emotions through the creation of new work, while examining concepts related to "the visitor" as spoken about in Rumi's Poem 'The Guest House'. Laura feels very connected to and at peace in nature; her new works explore ideas relating to plant sentience and reciprocal care. Her work has recently been published in The Walrus and she recently launched a solo virtual exhibition of digital works set in a naturalistic landscape as part of CONTACT photography festival titled The Advantages of Tender Loving Care.
Nicole Krstin
Artist Statement: Conscious of the waste involved in art making, I use my leftover paint palettes to create digital artworks. To create my three layers, I revisited a digital artwork I made in 2019 called The Ceremony, which imagines what transformation and renewal looks like on a cellular level. I isolated sections of The Ceremony and blended them with the original work to create entirely new compositions, or mutations. Each layer plays with symmetry and replication, but if you look closely, the perfection and idealism of symmetry breaks down. Each alteration examines how transformation, in any context, can be both disruptive and constructive.
I was also interested in exploring the dynamic and collaborative nature of this multi-artist project. Thinking about how we take-up and make space for each other through our individual layers felt essential to the success of Layers of Love. I believe this project reflects a broader social landscape that calls for authentic selves, while also cultivating and amplifying interests outside of our own. What a gift it has been to be a part of this project.
Nicole Krstin is a Filipinx visual artist whose work imagines the internal mechanisms and processes of transformation, with a focus on the ubiquitous nature of an inspired and evolving societal landscape. Nicole is represented by Wall Space Gallery in Ottawa. Nicole currently works and lives with her family in traditional Treaty 7 Territory.
Yahn Nemirovsky
Artist Statement: To build my layers of love, I have drawn from three of my paper-textile works, including a needlepoint zine called I Just Want An Old Door To Hold My Hand and two quilted collages from my Sloppy Craft Is Archival Love series (your dearest possession and I remind you of a part of yourself). In creating my work, I seek to recreate the intimate, confessional, and intuitive nature of perzines (personal zines) through textiles. My layers include fragments of text, fabric, paper, and thread. They are presented as offerings, introductions, or receptacles for your own memories and experiences.
One of my favourite ways to love a book or publication is to carry it with me wherever I go, even in the rain. Textile work has the incredible ability to soak up all that it has experienced, and I seek to celebrate its capacity for transformation. I extend a hand, share a laugh, and, through my work, express the kind of unflinching care that thrives in an openness to forces of change.
Yahn Nemirovsky (they/them) is an artist, craftsperson, educator, and graduate of OCAD University's Textiles program. As Education Coordinator at the Textile Museum of Canada, they are always teaching, learning and collaborating through craft. They are interested in the intersections of textile and paper media practices, and in their making they take inspiration from the intimate object worlds of perzines ("personal zines") and stitching samplers. They combine practices of embroidery, collage, drawing, weaving, quilting, watercolour painting, paper making, and appliqué to create hybrid objects that are given a first person voice with stitched text. In making these objects, Yahn seeks to facilitate an experience wherein it is felt that the viewer and the object both know something deeply true about one another. Yahn's textile work has been exhibited at The Riverdale Hub, Ed Video Media Arts Center, Xpace Cultural Centre, the Artist Project, and as part of the Bi Arts Festival at Beaver Hall Gallery, Glory Hole Gallery, and D-Beatstro.
---
Community Gallery #LayersOfLoveRMG
Watch the Layers of Love x RMG Gallery Grow!