By: Stephanie Pollard
In ancient Rome, stones were marked with distances-usually a full, or part of a mile-and placed along the road, hence the word 'milestones.' Today, we know milestones as place markers that hold significance in a person's or entity's life, big or small. April's RMG First Fridays celebrates two ongoing milestones: the 50th anniversary of the Robert McLaughlin Gallery, and the fourth thesis art exhibition from students in Durham College's Fine Arts program.
Executive Dean of the college's Fine Arts program Greg Murphy highlighted the students' learning and personal journeys, noting that support always makes a difference.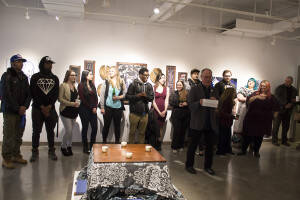 "It's a partnership really. At the end of the day, you (the students) come out with this work with guidance from the faculty, and the faculty (comes) out with a pride in seeing you go through all the pain, joy, and learning that you go through from when you arrived here (Durham) to where you are now and the kind of work you're producing, congratulations-really, really great work. I'm so happy to see that you stayed through," he said to a group of budding artists who smiled shyly at a clapping audience. Professor Sean McQuay, Durham College President Don Lovisa and Mayor John Henry were also present.
Meanwhile, art enthusiasts, music lovers, and local get-together supporters made their way through various rooms upstairs, to either listen to musician Rob Moir, watch performances by the Maxwell Heights Dance Company or sample creations from upcoming businesses.
Norm Reynolds, co-owner of Brew Wizards Board Game Cafe, came to First Fridays to help RMG get a little closer to their next milestone, while encouraging samplers to visit their location (74 Celina St., Oshawa).
"We (work) with a lot of local businesses…we want to give back as much as we expect to receive," he said. For three dollars, Brew Wizards visitors can access over 300 board games available, and re-fuel on homemade sandwiches, coffees, desserts, and draft beer.  As one of the few (only?) games cafés open to Monopoly masters in Oshawa, it made sense to open a business in Durham.
"We're all from this part of the world. I grew up in Oshawa, two of the other guys grew up in Oshawa (and) one in Whitby, and we wanted something closer to home-so why not?" Norm said.
The next RMG First Fridays is happening on May 5 from 7 – 10 p.m. See you there!