At the RMG, we often get asked about what we do each day, how we got into the crazy museum world and also what skills would be needed to do our jobs. With graduation looming for many college and university students, we will be profiling members of our team to shed some light on what it is we do behind the scenes!
Today we sat down with Manager of Public Programs and ArtReach Leslie Menagh to learn more about her daily routine and how she came to the gallery.
RMG: What's a typical day like for you? 
LM: Truthfully, I'm often in the office, at my desk, reading and writing, on the phone, in meetings, commuting, with intermittent sips of tea. When I'm not though, I'm animated, making presentations and chatting with our artists-in-residence, visitors to the gallery, or colleagues. I spend a lot of time communicating, problem solving, and envisioning projects and making them happen.
RMG: How did you get into this field?
LM: I've got a long and varied history in the cultural sector both as an artist and administrator. Foundationally, I attribute my career path to having grown up surrounded by family and friends that were musicians and artists. I was also encouraged as a young woman to travel and carve my own path. I took odd jobs throughout my twenties, waiting tables, working on farms and in construction, modeling for life drawing classes, and drawing a small income from my own sewing work, photography and jewellery.
In my thirties, I sojourned in Halifax where I earned a BFA from NSCAD and became involved in various arts organizations and artist-run centres (as an intern, committee member, office assistant, archivist, videographer, post-academic scholarship recipient). Since my return to Ontario in 2010, I've been freelancing as a costumer for theatre and film, volunteering for theatre and various arts initiatives, and slowly but surely turning my home into a studio and venue for other artists. Last year, I also joined the Board of Directors at Artspace in Peterborough, Ontario. In program management specifically, I think it's been invaluable experience to be an artist and entrepreneur myself. It's a natural fit.
To varying degrees, perhaps I've always been working in "this field."
RMG: What skills or training do you need for your job?
LM: Aside from having a formal history in the arts, I think it's absolutely necessary to be a project-oriented person, and to have a really genuine interest in learning and creative processes. Imagining, developing, and delivering new programs for the public also requires a risk-taking spirit, stalwart problem-solving and interpersonal skills, aptitudes as a community builder, being accessible and adaptive, and having a vision for the future. I don't know if I can be all those things at once, but that's my goal.
RMG: What's your favourite part of your job?
LM: Our proximity to Berry Hill and Spicy Affairs…just joking (mostly).
I love playing a role in enabling someone else's genius. I get a high from encouraging others, helping people cultivate their ideas, challenging and being challenged by creative thinkers. I have constant contact with makers of all kinds in this job and I am SO grateful.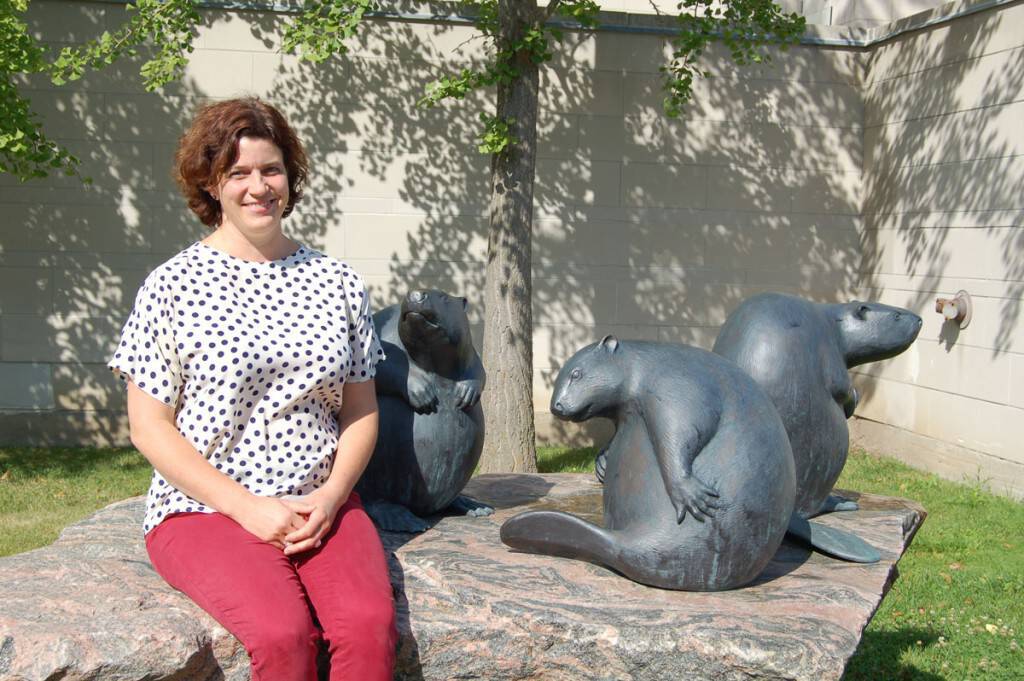 RMG: What are 5 invaluable things in your job?
LM: My 5 invaluable things:
A decent mix of total professionalism and total hijinks in the office
An inspired, capable and communicative team
Accountability
A kettle right outside my office
Room to grow
RMG: What do you get up to outside of the RMG?
LM: I'm hosting a show in my home of Peterborough of art by David Fry, Tara Azzopardi, and Darcy Hutton at my place, Eddie Creek (shameless plug) in June, so I'm working toward that in my spare time. Also, I'm looking for my next paid gig. This has been a maternity leave position at The RMG, so who knows where you'll find me at the end of the summer. Oh yeah, and I'm kind of obsessed with my garden right now.